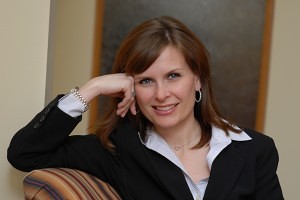 So, I'm a few days late with this post, but it's gonna be a goody, and you'll be happy you read along to the bottom; promise.
I sat across the table from Gini Dietrich in Chicago just before Christmas at the Southport Grocery (you can eat there, too, with blue-eyed waiters to flirt with), and the poor dear had all she could do to get out of her chair to jog down and keep our meeting.  (She'd been on the go for about three weeks in December speaking on a killer circuit while tweeting, blogging and FB'ing in sync with the jet engine reverberations.)
Then we hit the streets to find a bench to do Gini's first guest video post (with moi, ahem) which we had to repeat and giggle through. It was after that that I knew Gini was a special someone I loved to be with (and so, too, does everyone else), and I wanted to gift her with a little something in return.
Gini Dietrich is the 2011 Social Media, PR Woman of the Year. (Normally, I'd stop there with a #RockHot and #ThatIsAll, but this time I'll share why. Oooh, it feels good to blog again after two weeks off.)
>>No one keeps a schedule like she does, and no one has the pulse of PR and social media CONSISTENTLY.
>>She is a mentor to the young PR peeps up and coming, and she works hard to network and land everyone a job.
>>She'll take time to listen to a business problem and offer solutions and tips to get you out of the trench.
>>She is the author of a new book with Geoff Livingston, called Marketing In The Round, set to publish in spring, and you can pre-order just as I did on Amazon by clicking the link here.
>>She is always accessible with banter, friendly commentary, snark, and giggles.
>>She caters to public relations and social media peeps with content oriented to tools, techniques, and training.
>>Her smile, personality, humor, and love for dogs and bikes know no boundaries, and her energy is ebullient and effervescent (oh, that's so smarmy, but true!).
>>She gives gifts every Friday; read these posts here and here, for her popular Follow Friday series.
>>She is committed to the cause – changing the perception of public relations and encouraging practitioners to become more marketing-esque with knowledge of financials, business, analytics, and more.
>>She is the consummate social media leader for all things new including channels, gadgets, and tools. She throws the punches where they need to land, and stands tall to take the heat when it comes.
>>She is an A-lister, dammit, and she'll deny this forcefully…but when her blog, Spin Sucks, sits in the top 35 spot on Ad Age Power 100 for months, and the peeps ahead of her are blogging communities, then why the heck can't I call her an A-lister? I wonder if that's a negative…? She's a leader, and Spin Sucks Pro (her paid platform) is soon to launch for real; she's taken content marketing to revenue-generation mode (something few have done successfully).
What other reasons besides these can anyone share? I'm sold; hope you are, too!
Love ya, Gin Blossom! I'm a proud twinster!