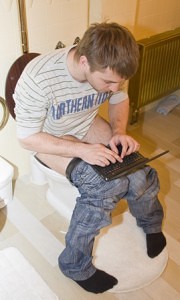 Everyone likes a good tips list, and it's been awhile since I've developed one. They can be so annoyingly mundane; however, this topic ought to resonate with many a peer blogger. I'm seeing too many peeps having crises of confidence, and I'm hoping that some of these thoughts will help boost morale, 'raderie, and support to keep on.
I invite yours; I also invite your selection about which of these you may want to see fleshed out into a more in-depth blog topic. (Heh, then I'll ask you to write it! Kidding, but I may ask you to join with me on its development.)
Here we go:
1. Give yourself one full year before you cash it in. That means posting a minimum of three times weekly!
2. During that year, expect depression, lack of voice, few comments, fewer RTs, issues about what to write, and general malaise. But, you have to embrace these emotions and push yourself forward.
3. If you struggle with what to write about, then pick a favorite topic and begin writing. Make sure it's comfy – talk about your grandma's pie crust; share a story about a book you just read; review a social media book and share why you like it.
4. Focus OUT! If you're depressed, your writing will be, too. See number three.
5. Select topics that are general, safe, and free of painful emotion. If you're seeking a support network because of a very personal situation, you may turn away some readers who don't wish to know that aspect of your life.
6. Try to define who you're writing for – is it for small businesses like the writing by Ken Mueller, Laura Click or Erica Allison? Is it for sales people like Marcus Sheridan writes at The Sales Lion? When you define your audience, you'll begin to tailor your writing to them.
7. Do you have a mission? Lisa Gerber at Spin Sucks shared their mission is to change perception about public relations. They develop content with that mission statement squarely in front.
8. How about some goals? Why do you blog? I have peeps who tell me they blog for themselves – just to write; others blog to help inspire and lend support to anyone who's down and out, and still others blog to earn money.
9. Answer the question "why is blogging important?" Are you just blogging because everyone else is? Do you thrive on pushing the envelope and jumping into the limelight? Are you trying to overcome being an introvert and blogging is the way to do it?
10. Get someone to help you with the design of your "house." When you write and post in a house that looks nice, clean, and sophisticated, then your content gets a boost, too.  There's a sense of pride that you've just built a new home, and you want people to comment positively about that new look and feel.
11. Spend some time on others' blogs and comment there. See how the comments come alive, and participate actively.  Try not to sow your oats in a community forum; it's best to stay positive and contribute professionally without too much negative energy. You can become uplifted when others are passionate about what they're saying.
12. Cautiously share your material. You'll know when you love something you've written. That's when you can distribute it from the roof tops and use ALL the channels available to you – including Triberr, Twitter, Facebook and Google+. You're aware of the various ways these channels bring new readers over to your blog, right?
13. Do a round-up of your favorite bloggers for a #FollowFriday post. Bookmark your faves, and repeat them as a weekly feature, but be sure to share why you're calling people out. Has a post hit home with you? Did you notice a ton of cool comments and were impressed by that? Others who follow you will be impressed with your generosity (that of sharing and recognizing peers, mentors, and others you appreciate). You know who always does this is @nittygriddyblog. She's amazing.
14. You can do the same with a theme – select a topic you like; it could be stamp collecting or parenting or dachshunds.  Find all the bloggers you can on each of these topics and share them; or, begin writing your own "how-to" series on a topic and link back to others as resources.
15. Interview someone and write a story.
16. Launch a weekly Q&A – you ask the questions and ask your favorite peeps to answer.
17. You might think this list is about how to write good content for a blog; however, when you become comfortable about your content, then you also become inspired and excited about blogging.
18. I cannot stress how important it is to be inspired and excited when you blog. People want to feel your passion about a topic; when you're earnest about something, then others want a piece of that, too. And, they want to share their own experiences, or join your community and participate.
19. Energy; POSITIVE energy. I just commented on Alaska Chick's blog for the first time, and this woman is a newbie blogger, yet she's crushing it with her positive energy.  She's Amber-Lee Dibble, and you may see her commenting on blogs; she's everywhere.
20. Brand yourself appropriately – Amber-Lee, may I pick on you here? You tweet @GirlyGrizzly; you sign your name Amber-Lee, and your blog is Alaska Chick, yet your company is something else entirely — something like Pioneer XX. Regardless, I'm confused what you're branding, and with that confusion lack of confidence may follow.
21. Ask questions and no question is stupid; it's the only way to learn. Here's a funny story about my foray into blogging – I had no idea I had to upload WordPress.org as the foundation for my self-hosted blogging platform.  I tried to upload Headway Themes first and of course failed miserably. When I kept asking questions of the Headway developers, I became persona non grata – they didn't have time for a dumb broad's questions, yet I was their audience!  I was a wet-behind-the-ears blogger who knew nothing about the tech back end of a blog!
22. Admit your weaknesses, ask for help and add someone to your team who knows what you don't. I use the word "team" loosely. My weakness is the tech back end; see #21, but I'll struggle to DIY and fail! Only then I'll ask for help. I've since added a great tech expert, @CarbonSpace. He's Dwight Maskew, and he was recommended to me from a Twitter pal. (I recommend him; run, but I have first dibs.)
23. If you're having a tough time blogging every day, keep that to yourself. Try not to air your laundry to the entire sphere; work around your roadblocks by taking a day off from the whole thing. Put it aside until you're interested in seeking inspiration again.
24. Don't be afraid to overhaul your blog's look and feel. You'll never stop doing this, but your house needs to be in order because it's the first impression that's the strongest.
25. Gingerly approach and master voice. Early on in this list I provided many ways to develop content; this was intentional. When I started I had no voice; I wasn't confident about what the heck I was saying, and the writing was poor, forced, and uninteresting. Because I read everything, I take inspiration from articles in Ad Age, BusinessWeek, Fast Company, The Wall Street Journal, Inc., and other publications. (I still do.) When I saw an article that prompted a serious reaction, I sat down and wrote about it. And, I wrote with conviction that a company was wrong, right, or had erred in judgment. Conviction begets passion, and people appreciate a good opinion. What are you passionate about?
26. When you get a commenter to visit, embrace them. Do not treat people like persona non grata if they only pop in once every two weeks or less. People are very busy, and your blog is out of sight and out of mind. When you do #13, you nearly guarantee people are popping in to pay you homage for the link love. If they like what they see, they will come back again, and it's OK to nudge the people you most want back! (I love an invitation and reminder. There are so many places and people to see; it becomes challenging to visit everyone's house.) Shakirah Dawud just wrote about this at Deliberate Ink!
27. Before you ask for help about your blog; know whether you're prepared for brutal honesty. In my first year, someone asked me "Why are you blogging again? You've had a rough go of it the last five weeks." I nearly threw in the towel; honestly!  I was discouraged, depressed, and knew this was not for me. And then I got all mad and said, "Who the flip does he think he is? I'll show him!"
28. If you're really down and out about blogging, look introspectively for a moment. Are the kids driving you insane? Are you and the partner having issues? Are you struggling to find a paying gig? Did you recently lose your job? Is it summer and are you just too crazed to be inspirational? Did you recently lose a family member or friend and you're mourning? It's life people! Life rocks our world, and that's expected to influence blogging, too. Take a breather…it's OK to go on hiatus until you get your mojo back.
29. Rather than hang out at the power bloggers' houses, select a mid-tier group of bloggers (who also are experts in their own right) and hang out there. It's less chaotic, the pace is less frenetic, the comments are not fast and furious, and you'll earn respect and support in ways you'll never expect. (Not that you don't over at Gini's, Danny's, or Mark's…)
30. KEEP ON! Do not stop; do not lose your moxie or mojo. If you do make that decision; however, know that you can always turn the switch back to "on." And, when you do, that journey may take you on an entirely different pathway where new peeps you've never met become your best supporters.
What might you add? Which tip might you  like to see as a deeper exploration?