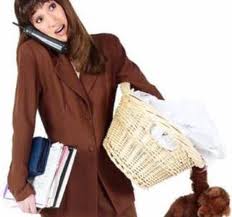 Selling. Relationship building, and the deal.
What do you think is the most important when someone is trying to make the sale? The deal may be the lowest and best one; yet, there's something more to earning the sale than just the numbers.
As a professional blogger and public relations professional of three decades, I am pitched every day by sales people trying to lure me in. The tools of my trade are expensive especially for any solo business, and I know I must make an investment in many of them in order to service my clients well and efficiently.
Each year at this time, it becomes a battle between the two largest media vendors and others wanting a piece of the action vying for my business. Each year I weigh the deal to determine the best approach for my clients. But, this year was different.
7 Selling Factors to Earn the Business
When you're a solo business and every expense penny counts, the total of the expenditure matters. How much is the very first answer I want to hear.
Sadly, one of the vendors has a revolving door of sales staff. They email and call me frequently, they fight over territory, and I never know who my sales rep is should I need to call. The trust in the infrastructure of an organization is absolutely akin to the stability of the sales team. On the other side of the street, I just heard from the same sales rep I had last year; this business is tough…having the same face and name selling me over two years says something.
How about the service side? Will they be there to support the customer? Will they be knowledgeable and will there also be videos or Q&A and live chat features to help me should I have an issue? I'm not one to call in for help; it's a time suck. I want to find the answer myself or better yet, make the product usability intuitive.
The young woman with whom I spoke yesterday told me she wasn't going to hard sell me because that wasn't her style. I appreciate that. When someone slips me the slime, I run. When you're authentic and genuine with me, that's when I listen and exchange helpful selling tips in return.
There's no question you get what you pay for. Because I have used both these products extensively during the long tenure of my career, I'm familiar with the product and each has selling points while one has more failures, in my opinion. Usability, as mentioned above, needs to be intuitive. I don't want to have to guess where to find something; that's frustrating, annoying and a time suck.
When someone tells me they are coming back to me as they need to speak with their boss about the features of the package I need and they don't for more than four days, then I seriously consider what happened. Turns out illness put my sales woman on her back, and I fell through the cracks. Understood; yet the deadline for my deal to close is today and that means I'm in conversations with a variety of vendors to seal it.
I've saved the best for last. There are so many, many ways to build relationships to earn a sale. I'm going to tell you what impresses me the most.
1. Visit my blog and make a comment. There is content galore in this site, and archives from the last four years. There's got to be a way to impress me.
2. Know who I am as a customer and professional. When you take a moment to read my bio or remark on something I shared or wrote on the Interwebz, that means you're really getting to know me and my needs.
3. Acknowledge the fact the sales team is a revolving door, but you're going to work hard to earn my trust in selling to me.
4. Instead of selling me, educate me and tell me how your product has improved, especially if I tell you I don't care for it.
5. Engage with me on social media. Let me tell you a story about tennis racquets.
Babolat Tennis And Earning the Sale
Anyone who knows me knows I'm a tennis freak. In the fall and winter, when I can reclaim an evening as my own (kidlet has every night for her extracurriculars), I play about six hours a week. I've been demoing new racquets, and tweeting about my demos with Babolat.
My friend Brian Vickery plays extensively too, and his family of four are all Babolat users. I've been a Prince loyalist until I began my quest to find the best racquet.
I've now demoed about five or six Babolats, and I'm still not certain which one to invest in (tennis racquets average $200 each, and you need two of the same).
Yesterday, I tweeted Brian and mentioned I didn't think Babolat was on Twitter as I had mentioned its name and it racquets by name a variety of times and crickets. Lo, I got several immediate tweets and a phone call from Babolat sales!! How freaking exciting is that??

Tickled, I tweeted back and made the phone call.What ensued was the most amazing conversation I've ever had with someone in sales who wasn't selling; he was educating.
We talked about racquet stiffness and weighting, body wear and tear, and strings. We talked strings every which way from Sunday (don't you love that expression?), and I was the happiest camper in the world because Babolat was treating me as if I was on the ATP circuit. As merely a 3.5/4.0 USTA player, I have a ways to go before I join the professionals and beat the crap out of them (heh). BUT, here's the point…Daniel of Babolat didn't treat me like a low life; he put me on the top of his pedestal as the most important tennis player in the world.
He built a relationship with me, he treated me respectfully, and guess what else he shared?
Brand Engagement On Twitter
Babolat had seen my tweets with Brian over time; they saw that I was only mentioning the brand in my posts and not addressing the tweets to Babolat.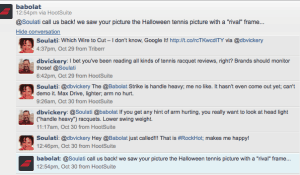 The sales team wasn't sure whether to intercede on the conversation; they didn't want to interfere as it looked like we were not asking for help.
I assured Daniel of Babolat to absolutely toss out a tweet saying "Hey, we noticed your tweets about our racquets, is there anything we can do to help your decision?"
Having that kind of "we're here to help" tweet from a trusted brand is what jazzes consumers. I'm not one to hit the forums or Facebook and sift through line after line of content that doesn't concern me. If I want something, I will post it on Twitter and wait for the brand's response.
In this case, I was tentative as a consumer thinking I was too much a small fry for Babolat's attention, and Babolat the brand was tentative thinking they shouldn't jump in with a "hey, we're here" tweet.
Relationship Building Fuels Brand Loyalty
And, now, after that story? Where do you think my loyalty lies? I'm going to become a Babolat user for the first time. I'm going to invest in the Babolat Drive Max, a lighter weight racquet, RED (yay!), and get it weighted. Then I'm going to put more expensive softer strings on it to protect my arm and get the controlled power (at least that's what I think Daniel told me). And, before I do all of that, I'm going to call Daniel or tweet him again because he invited me to do that whenever I wanted to. He gave me his cell phone and I programmed him into speed dial! (Just kidding, but that's how he made me feel.)
Brand loyalty has so much more to do with product and service selection, and all the factors I listed above are critical; yet relationship building is by far the most. The Babolat story happened yesterday, and it jazzed my brand loyalty as a first-time customer for the long-term.
How about you, can you relate?
Related articles