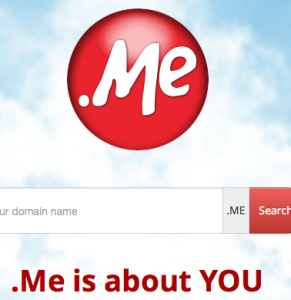 If you have an opportunity to blog as long as I have, you also get a chance to be a brand ambassador.
What that means is you'll see an occasional post here as promotion or sponsored invited by a company. This is that post, and yet what's interesting about having to say that is this:
No one tells me how to write my story; they give me a one-sentence theme of what they would like to see, and it's up to me to interpret and craft content to match campaign requirements. The other thing? No one is editing me either because there is a level of trust to those selected. I respect them; they respect me, and we all play nice in the mud.
Can we get to the matter at hand, then?
A Domain Extension (.ME) Topped With Smart
When I joined the .ME campaign, it was to launch news of its loyalty program at SXSW with a grand prize awarded to some lucky jamoke. You can read that post right here.
For this second piece, I was encouraged to dive deeper into what .ME offers in addition to its new loyalty program, and here's what impresses me the most, and I'll say it again and again:
Who knew a human worked at a domain extension? Who knew .ME could be an actual brand with smart marketing to boot? (That's not part of the campaign; that's all me.)
When you hit its website domain.ME, there are so many places to be inspired by smart marketing. I like the success stories of startups using this extension to launch #RockHot websites.
I am particularly impressed with the branding of these domains because we all know that anything .com is gone; creativity becomes the critical mass for success of an online business.
Successful .Me Domains
Here are a few that impress:
Diagnose.Me – a place to get a second opinion by radiologists
Meow.Me – for cat lovers also interested in becoming pen pals with any of 1 million users the world over!
Allove.Me – shares e-greetings for special occasions from the heart
JustDelete.ME – guess what? I spotted this domain in my latest issue of Fast Company, my fave zine for blog fodder. It's featured in "Spring Cleaning—With Tech! as a way to unsubscribe.
No other domain extension makes any effort to market its services, but here is .ME all about establishing relationships with its users, featuring domains/sites on its blog, and sparking even more creativity. When bloggers and .ME owners share the brand love, they earn points and free domain names. You can see more here on the website.
Brand Flavor of .ME
It's pretty interesting what my research into .ME has prompted…the next time I want to set up a new url or reserve one for kicks, I know hands down I'm going to be reserving a .ME.
Why?
When I look at the website, it's fun, simple to navigate, newsworthy, has a blog, is backed and staffed by humans with images that match a name, it shares stories about partners and users and new programs at the next big conference.
Because of this website and the smart marketers behind the company, I know I can trust that support is there and opportunities for future engagement are too.
I can see why .ME is working with Triberr on a brand ambassador campaign. It is setting the bar high for smart marketing for all the new TLDs set to flood the market any day now.
I'm impressed, and that's my unpaid opinion.