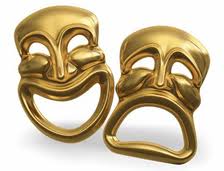 A man I've had the pleasure of meeting IRL a few times goes by name of Shane Rhyne, and he's a former public relations executive who has gone comedy.
Shane tells me and us about his transition (yes, gents, he is having a mid-life crisis) from PR to comedy which to him is not exactly a flying leap. If you listen to the whole kit 'n caboodle, you'll hear a classic joke from Shane and it cracks me up because I laugh at everyone's jokes.
Shane also shares about overcoming fears about the monsters that are no longer scary, what it's like to move in with mom and dad, and how he makes it through his new daily grind.
I'm so excited to bring you this lengthier rendition of Soulati Media On The Street. Oh, and do listen for my shout out to another special friend, Davina Brewer, aka Queen D!
Oh, and one more thing? Please HIRE SHANE RHYNE for your next gig or as an emcee; he will not disappoint! Tell him Jayme sent you and I bet there's a coupon!
Other Soulati Media On The Street Videos You Might Like