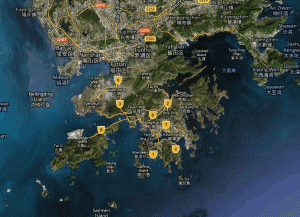 The topics for digestion this week have been mind mapping, message mapping and now information mapping. A post I wrote "Mind Mapping is NOT Message Mapping" attracted Roy Grubb in Hong Kong. He, intrigued, asked to publish my piece on his wiki, called WikIT. Appreciatively, I said, "Uh, let me think… YES!" 
Roy launched a management consultancy, G&A Management Consultants, in Hong Kong in 1981. With a background in information systems, Roy is now entrenched in visually oriented information/knowledge management and project managed the development of software, such as 3D Topicscape.
As I'm always seeking to push the boundaries of my mind and expand my network, I eagerly invited Roy to answer a few questions, and he graciously agreed:
 In Hong Kong, has social media taken off in your line of work?
My activities are global, rather than locally focused, and I don't read Chinese so it's hard to state with certainty.  Hong Kong people are generally well up with the use of technology and its influence in society.  There are plenty of HK-based Twitter accounts and blogs, I know, but I only look at those in English.
What is Topicscape?
This has its roots in mind mapping or concept mapping, because I've been using these for 30+ years and found them invaluable in business, organizing my reference sources and reading files, planning and thinking.  The Topicscape story is great background.
How did WikIT  come to pass?
The main purpose of WikIT is to spread the word about information mapping (the term I use to cover all visual methods where items are connected in a map according to how they are related, including message mapping).
I have long replied to people's questions on Twitter, LinkedIn and blogs, but those replies are mostly ephemeral–they may stick around forever in reality, but they don't much get an airing after their first appearance–so I decided to start a site where I could publish the answers, my opinions, and spark others to respond. 
I could have done this with a blog, but felt with people accustomed to Wikipedia, a wiki would carry more of a sense of being a solid and reputable reference source. 
What are the objectives for WikIT?
WikIT tries to be an anti-guru source, as well. There are too many people in the mind-mapping field, especially, who claim their way is the only one. That view is either through limited imagination, familiarity with only one technique or having an interest in some kind of trainer "accreditation," usually from a commercial source. 
Articles in WikIT point out different benefits and varieties of map styles and formats so that mappers can see the alternatives, not just "This is right and that is wrong."  It seeks to guide people on their choice of map for a given task, a specific audience, and an expected life-span of a map.
Who is your audience?
Mainly tech-savvy knowledge workers, project managers and students.
 Is this a profitable venture for you?
No, it's more pro bono and was not established for profit; it's there because I believe many more people could benefit from information mapping than do so far. I think some of the gurus are getting in the way of this, with their "one method suits all."
Do you regard Wikis as "special" or the "forgotten" social media application, channel, tool?
No, just as an easy-to-use content-management system.  Although there are talk and discussion pages in MediaWiki wikis, it's not an ideal social medium, but it's a really good way to gather knowledge from many people and make it available to all.
After setting up WikIT, I switched the Topicscape user manual and FAQ pages to a wiki format, and it cut the time to update it to about a quarter. Now, each time we get a question by email, we consider if it is generic enough to go in the wiki, and if so, add the answer as soon as we have replied to the user, often with a cut-and-paste from the email and some tidying to provide context the emailer already has.  I don't need to re-index the site manually — Mediawiki search finds changes instantly.
Maybe I'm re-thinking that as you've asked a question that I haven't considered before. 
Today, someone asked a really interesting question on Twitter that couldn't be answered properly inside the 140 limit (or even with twitlonger, which I did use), so I put a new article up on WikIT: So wikis can fit into the social media sphere, not as a conversational tool particularly, but as a way of capturing interesting and longer-lasting ideas and knowledge that pop up so often in social media timelines.
What are your goals with WikIT and "information mapping?"
To make the benefits of all the types of information mapping known and accessible to as many people as possible, without charge.  I believe this bag of techniques is not sufficiently known and can be useful to many. Some people don't like it, some have razor-trap minds and don't need it, but many will definitely find it useful.
What success metrics do you have in place? How are you defining success? Have you succeeded?
Metrics: Google Analytics. Definition of success: As long as people go on saying they find it useful, recommending it and visiting it, I shall regard it as meeting my intentions. Naturally, the more people do so, the better pleased I shall be. Have I succeeded? However popular it grows I shan't be satisfied and will want to push on for more.
What tips or counsel can you offer our peers in social media?
I would just pass on one from Guy Kawasaki: Be a mensch. That's why I spend a lot of time answering questions on Twitter.  I'm using 'mensch' in the Yiddish sense, by the way, as brilliantly defined here by Guy Kawasaki: Cutting it down a lot: Help people who cannot help you. Help without the expectation of return. Help many people. Do the right thing the right way. Pay back society. The baseline is that we owe something to society.
How is one to find you? Are you doing search marketing to drive traffic?
WikIT is 100% content (apart from a few ads down the side) which is what the search engines like, that and the fact it gets linked to a lot. I drive traffic through Twitter and occasional announcements on my blogs.  And on Topicscape.com we have a widely quoted mindmaps directory — where the maps gathered from all over the web are shown with links back to the originals.  They are tagged by subject and classified by map type (no one else does that) which means that many people find this useful and link to it.  As WikIT is mentioned at the top of each page of that library, visitors we know are interested in information maps get to know about WikIT, as well.
Roy, thank you so much for taking this time to answer my questions in-depth. I'm excited and eager to hit your sites and glean new knowledge. I hope others do, too!