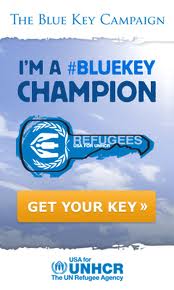 I'm late to the party; what else is new…yet, there's still time to help founders and planners of the global BlueKey campaign make their mark by June 20, World Refugee Day. Shonali Burke is driving the digital program to earn 6,000 blue keys for $5 each, and Gini Dietrich is riding tandem. Together they're making a difference, and you can, too.
As a blogger, hit Shonali's blog and you can lift content from her blog (because she's provided everything you need to spread the word).
Then, you can launch and post a cute photo like @JennWhinnem did when her  blue key arrived. Or, go directly to the Blue Key Campaign site  to adapt content for your post.
And, so, please read the below excerpted directly from Waxing Unlyrical; Ms. Shonali Burke's amazing blog. It's only $5, folks, we can afford that hands down. While you're there, take a look at the solid digital/PR strategy behind this campaign; it's one for the text books.
Extracted directly from Shonali Burke's blog, Waxing Unlyrical:
So I've been working with USA for UNHCR on the digital aspects of its Blue Key campaign. It's very simple:
1. The Blue Key campaign symbolizes the key to the home that refugees may never ever hold again;
2. It's a $5 symbolic Blue Key pin or pendant that is really very cute – and by getting your own, you're showing support for the cause of refugees worldwide, as well as for the 6,000+ UNHCR staffers working globally to bring them some relief; and
3. Our goal for this phase of the campaign is to get 6,000 keys out to Americans (they can only ship within the US) by June 20, which is World Refugee Day.
From an SM campaign point of view, I think we've been doing some interesting things (but of course, I'm working on the campaign, so take that with a fistful of salt if you need to). We have:
• Refined the "online home" for the Blue Key campaign as much as possible, so that messaging is in sync;
• Reached out to cause-passionate bloggers who are active in social spaces to become Blue Key Champions (you can become one too, just let me know, the main "ask" is for you to publish a post on the campaign between now and June 20);
• Using the #bluekey hashtag on Twitter to amplify the conversation and drive awareness;
• Created tracking URLs for the primary outreach mechanisms, i.e. blog(ger)s, Facebook, Twitter & email newsletters (which USA for UNHCR is sending out);
• Customized the "thank you" email someone gets when they sign up for a Blue Key (or more than one), so that they can choose whether or not to "like" USA for UNHCR on Facebook, follow on Twitter, donate a tweet a day, or become a Champion.
(I really like it when I get to shamelessly copy content from someone else's blog; makes my work so much simpler.) Please buy a Blue Key (and then head on over to @DannyBrown to get your #12for12K mojo, too).
Thanks! You won't regret it.