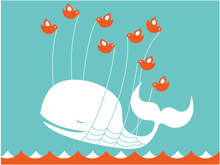 Like the full-page ads in More magazine for lipstick, hair care, mascara, and bronzer, the ads collectively tell a story. They are encouraging women to add such products to their glamour foundation.
What products might you expect in a 'zine to encourage the building of a strong social media foundation? Here are my picks; what are yours?
Twitter. Getting a bad rap these days, aren't you, Twitter? The fail whale is getting the best of you, but I still believe. Every company may not wish to engage in Twitter (no, it's not about what you're having for dinner), but it's THE hot spot in microblogging. And, listening is half the conversation.
Trending Topics/Searches on Twitter. The mighty hash tag (#) helps you search for what's popular among Twitter's ~75 million users (of which 17 percent are active). You can also search for key words adding your company and that of your competitors to the mix.
Facebook. There are ~465 million global Facebookers. Like it? Those former fan pages now "like" pages are confusing still, but companies are launching Facebook communities in droves. Many of the Fortune 100 companies are managing consumer crises on this platform and permitting audiences to comment either negatively or positively about the customer experience. Trust me on this, Facebook is NOT going away. Some say it'll surpass Twitter and throw a major curve ball in that direction. Twitter v. Facebook? Yep.
Trackur. Get a tool that helps you manage online reputation. So many conversations I'm having are about "I don't want anyone speaking negatively about my company or services." One way to manage negative comments is to feed the pipeline with positive content. If you're in a grudge industry where people loath hiring your services, perhaps dentists, lawyers, body shops, surgeons, tax accountants, there are bound to be high emotions around the customer experienc. Nip that in the bud with high levels of content marketing.
A blog. Think about this carefully. Blogging is critical, reaps benefits and requires devoted time. Ask me about the merits, and I'll tell you…best way to boost the thought leadership potential and garner positioning for your company.
SEM. Search engine marketing is another critical foundational tool to pave the way to success of your blended social media program. Can't blog without the search engines knowing about you!
You Tube. Many folks are jumping in to video; You Tube is a highly popular platform to grab attention. You want that video to go viral? Hold on…first things first! Develop cool content, optimize it, and post to a channel of your own, and then drive traffic accordingly using all the aforementioned methods of communication.
There are so many more to add to this mix, but for starters, you'll do fine with these when you do them well.