This post originally appeared August 5, 2011. Figured we'd do a repeat (my first ever) in honor of the Olympics in London this week.
Momaraderie is a sometimes feature I write to recognize an elite bunch of business women who are mompreneurs. I've written about several amazing chicas over time, and if you've not met them, please stop in to these posts for a refresher. I'd like to introduce you to Kaarina Dillabough, a Canadian Olympic business and life coach.
I am not sure how I met Kaarina Jokinen Dillabough; I believe it was Twitter, and after the first few tweets a fast friendship was born. Kaarina is a mom of several boys and lives in Canada. She also calls her boys, The Beatles, and if you ever Skype with her be sure to ask for a grand tour of her beautiful log home she and her husband (together since 1978) built. On one wall where she finally landed the camera is a tribute to the The Beatles.
What impresses me most about Kaarina is her aptitude for friendships. She is intuitive about business, life and knows when someone needs a virtual hug. She writes a blog that's fairly new, yet the comments are fast and furious from a variety of peeps. It's because she's a darn good writer with amazing perspective about business.
What is more amazing is her storied sports career! She started rhythmic gymnastics when three-years-old, attended the National Ballet in Toronto, ran track and field, competed in artistic gymnastics and played varsity basketball at college.  Her place in the history of Canadian Olympics is rock solid.
Kaarina tells her story…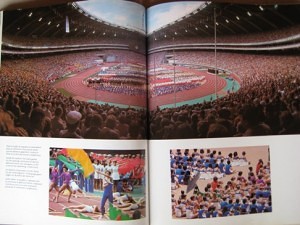 In 1976, I was selected as part of a team to perform at the Opening Ceremonies of the Olympic Games in Montreal.  Rhythmic Gymnastics was not yet an official Olympic sport, and our inclusion as a demo sport was intended to lay the foundation for its inclusion in the next Olympics.  The experience was almost indescribable.
Our particular team was seated at the base of the Olympic flag until the moment we performed.  I still get goosebumps remembering the march of teams, the raising of the Olympic flag, running in of the torch (for the first time by both a male and female).
After the Olympics, I became the youngest President of a National Sport Governing body for Rhythmic Gymnastics for Canada.  I was proud to have been involved in the lobbying for inclusion of the sport.  Unfortunately, 1980 was a boycott year, and we did not attend the Games.
But we hit Gold in 1984!  Lori Fung, from Vancouver, will forever hold the title of first-ever Gold medalist in the sport of Rhythmic Gymnastics.  I was one of her coaches during her preparation for the World and Olympic Games, and represented Canada at all World, International and Olympic rhythmic sportive gymnastic events in the capacity of Chef de Mission, Coach and CBC colour commentator, with direct responsibility for all team, media and government relations at home and abroad. I prepared all print materials for print and electronic media and was spokesperson for Canadian delegations to public and press at all International Rhythmic Sportive Gymnastic events, including World and Olympic Games, for a 10 years.
I had the honour of doing CBC Colour commentary at the '84 Games with Ernie Afaganis.
There is a really interesting story about those Games.  We were not expected to win, and we were up against Basketball for air time.  As we commentated live, it was becoming apparent that Lori was going to win the gold.  The event was over, and immediately after, the producer cut to my headphones and said we were going live in 3…2…1
I had to commentate the event as if it was actually happening, with the producer talking me through where Lori was on the floor through my headphones…all the while I was looking at a blank screen.  Pure adrenaline took over, and I don't know to this day how I held it together.  But when I review the video from that event, you'd never know it wasn't live.  That is an experience I'll never forget.
Our first son, David, was born in 1985: our Olympic baby!  When he was just 6 months old, he travelled with me to Spain and Switzerland for the World Championships.  He had his own accreditation, and quickly became the team "mascot".  When we travelled to Japan, he stayed home with dad, and I wrote him a daily journal, which he treasures to this day.
Five years later, our second son Michael arrived.  From that time on, Rhythmics was behind me, and I was on the bench as an athletic trainer for hockey and lacrosse.  I was the lacrosse Trainer for our 2000 team to the Canadian Championship Minto Cup, and to the Brogden Cup (Canada Vs. USA) in Florida, where we won Gold!
Over 25 years ago, an associate said to me: You know…what you do for athletes, business could really use.  I began to volunteer my coaching services to business owners, long before the moniker of "business coach" came into being.  I soon realized that the skills I possessed were marketable, and I've been a business consultant, coach and strategist now for over 25 years, helping business owners to reach higher levels of profitability and prosperity, and working in both the public and private sector with small to medium sized enterprises.  Throughout it all, my family has been my strongest support and loyal fans.