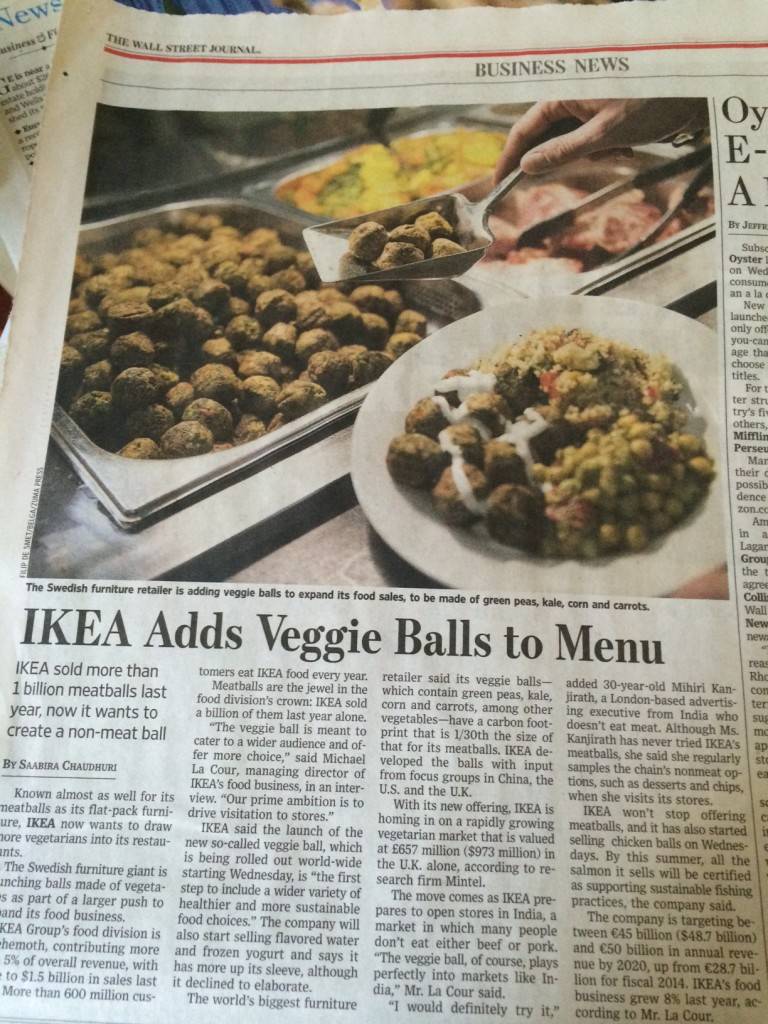 This story is about my roots in media relations and messaging. In particular, it's about IKEA media relations and messaging!
I read the Wall Street Journal paper edition every day. If I can't get to it in the morning, I'll scan the headlines. That's what happened recently — I was on the phone with mom and exclaimed, "You gotta be freaking kidding me.'IKEA Adds Veggie Balls to Menu.'"
It was right there under 'Business News' with a full-color image larger than life (about 8 x 10 in inches) with a story right below. I am agog; here's why.
Media Relations And Messaging
I hail from Chicago's PR agencies in core media relations as a former purist, publicist, and public relations-only professional. Every day in my Chicago agency days I did media relations and messaging. To those not in the know, that means publicity and story pitching to journalists who hated that word — 'publicist.' I sat on the phones for eight hours daily as a captive AE pitching media. I know a slow news day when I see one.
Today, I'm no longer practicing like that on a daily basis; alas, public relations has changed. The messaging and media relations I do is oriented to message mapping and finding the news hook to do media relations the digital way. But, that's all for another day.
IKEA Got Lucky
Now, I don't discount the fact that IKEA is a multinational brand and largest furniture maker in the world consumers love. I don't discount either its likely phenomenal media relations team who also likely consists of young publicists pitching media. Despite the company's privately held status, the Wall Street Journal would be remiss not to cover the company's goings on.
BUT…
[Read more…]