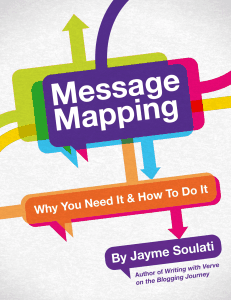 During election season, I usually get a call from several attorneys seeking marketing services for their bid to become a municipal judge or other position as an elected official. When the call came in recently for this same circumstance, I informed the caller I would consider adding my hat to his ring only after we executed a message mapping exercise.
Politicians need message mapping just like other business leaders do, too.
Message Maps Are Critical Tools
I always say, every company needs a message map. That goes the same for solopreneurs and especially politicians.
When a politician is running for an office associated with a party, a message map is the critical first step to ensure everyone in the campaign tracks with the views of the candidate.
Imagine if a candidate steps in front of a camera for an interview and answers a question with something out of left field no one was prepared for? Enter damage control! Call out the crisis communications team!
Executives of companies are no different than politicians when it comes to media interviews. They, too, require a message map, media training (with the map), and role playing to prepare for tough questions from journalists. If the CEO of a company does not heed counsel from the public relations team and goes off on a tangent that is off message, a lot of damage can be done with comments out of context. We have all seen how politicians fare in these circumstances, and it ain't pretty. [Read more...]