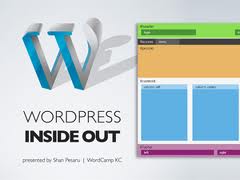 My head is swirling from reviewing free- to-premium WordPress website templates and reading blog posts from designers and developers sharing tutorial about how they love Genesis, Thesis and think Headway is good but has some catching up to do.
Then there's Elegant themes that look amazing, but Scott Quillin over at New England Multimedia won't work in any of the above. Instead, he has one of his own secret premium themes he insists is #RockHot (which I won't share with you).
I've been blogging on two blogs for almost three years (that's nothing in the scheme of things). But, in that time, I've played with free themes, Headway, and Thesis enough to know that I suck at designing a website or blog. Heck, I've even launched a few websites in Go Daddy's Website Tonight software (and they looked half-way shabby).
What I'm trying to say is this, Peeps:
Content marketers, like me, cannot design a website; nor can they develop its back end.
Get my drift? We can't do it.  All we can do is change the font and the color of a leaf, but we can't design a website all by ourselves.
It frustrates me extraordinarily that I can't do this…even though I told Craig McBreen in comments at his house that I ban "I can't" from my household. If there's an obstacle in front of me, I climb it.
This time, though, to climb over the designing and developing of a website, I would need to go back to school somehow. I would also need to become a detail person and enjoy the tedious nature of graphic design.
I hate designing PowerPoint decks for that reason; I don't make things look pretty very well. I'm a slap-the-paint-on-canvas kinda gal and call it abstract art; in fact, I have one of those on my mantel that I'm pretty in love with ('cuz I slapped some acrylics on canvas and stroked the brush back and forth in a rainbow-esque fashion, and I really liked it).
I digress.
There's so much more that goes on behind the scenes of a website or a blog that we can't see and don't know about. That's why you have to hire someone to join your team and make it happen. But, you have to direct them to design and develop what you want; you need a vision for what you want to appear on that blank canvas.
About every six months, you have to go through this exercise with your website and stir the pot.
That time for all of us is about now, and here's why:
Responsive design is the current trend, today; right now.
Making your website responsive means it will work on a smartphone or tablet or e-reader. When you visit a website and all you do is scroll from side to side to find the nav menu, then you know that site is not responsive.
Did you know that big data is telling us more people will visit your website from a smart device than from a PC? The data are showing that uptick; are you ready?