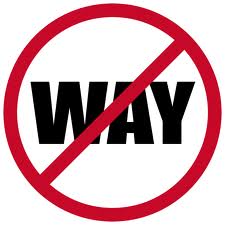 It was a blog post like this that started it all – that fateful day on the New York Times Small Business Blog when a Long Island haughty restaurateur accused the entire public relations profession of being crazy (no more link love from me). That's when my guest author Jenn Whinnem responded, and a series was born – What is PR?
A colleague of mine, @DawnComber, who is also a featured Momaraderie, pointed out Adam Singer's blog post of March 31 and asked my reaction. You see, she's been watching in the wings and reading quietly without comment as I attempt to corral the Mustangs with a single definition of public relations with consensus. (The grand finale happens this week, after a series of more than 13 blog posts on this topic.)
And, so, to my chagrin, I read Mr. Singer's blog (link above) post "PR Needs to Shift From Reactive to Proactive"  however I did it in fits and starts.  My blood began to boil in the first graph where I'm told PR practitioners need to "become truly proactive in their approach to the practice; simply, from reactive to proactive."
I read this to suggest everyone in PR is reactive; we don't plan, we're not proactive, and basically we're tactical and useless.
Next graph written by Mr. Singer: "Media companies are far more proactive than reactive. They plan their content through editorial calendars. Their leadership teams have the executive perspective on content and have a long-term vision with the goal of influencing an industry. They react to news and happenings, but they plan for it."
STOP.
Is Mr. Singer suggesting PR leaders do not have a long-term vision with the goal of influencing an industry? I beg to differ; influencers are our bread and butter; strategic/long-term planning that aligns directly with an organization's business goals is how we execute against a PLAN.
By the way, Mr. Singer, the use of ed cals is a highly tactical and only somewhat strategic approach to planning; you're suggesting media companies (do you mean magazines?) that use a content calendar should be labeled strategic?
How can someone plan to react? PR is often prepared to react, and that's called crisis communications. Good media relations professionals are always prepared to react to national news so they can tie in their story and pitch media with an associated angle and a hot influencer to help tell the story.
The PR practitioners I know are always prepared for tomorrow's news, especially those who work in publicity and media relations. That's why we consume news from "media companies (?)" and social platforms, etc. to anticipate and be prepared for the future.
Next up on Mr. Singer's blog:
"I'm convinced that public relations practitioners need to flip their thinking. Simply: from reactive to proactive. But only if they can become truly proactive in their approach to the practice. And the 30% of proactive PR most companies and agencies spend in proactive mode? It's probably wasted."
STOP ME FROM BEING STRANGLED.
So, finally, I think I understand. Mr. Singer believes there are only 30 percent of companies and agencies (not PR practitioners) that are proactive. I'm not certain a firm or company can take credit for being proactive without a visionary public relations and integrated marketing team leading the way.
"Most PR professionals flirt from opportunity to opportunity." (Is Mr. Singer implying we flit from or flirt with opportunities?) I've not flitted from client to client in years; yet I'm always on the lookout for the next slice of my pie to fill my business development pipeline. Incidentally, "most?" PR people do this? That's an amazing generality without proof.
We all know that PUBLIC RELATIONS IS NOT JUST PUBLICITY. Perhaps this is where the confusion in this post lies? The breadth of the public relations profession is being boiled and simmered into this singular blog post. The Public Relations profession has been taking a global beating in the last several months, and there are several of us trying to flip that around to prove our value, credibility and status as professional influencers within our respective vertical markets.
I do agree most people need to be more strategic in how they approach business; but, I'm hard pressed to imply an entire profession is tactical and without influence.
It's blog posts like this that become choke holds on our collective efforts, and it's so unsettling to me that this post comes from someone within the profession who should know better than to make generalities for thousands of PR practitioners many of them indeed strategic who do influence brand by aligning communications strategy with business goals .
Before I go any further, let me give Mr. Singer the kudos he deserves. Adam Singer works in public relations; he's a peer although we've never interacted before today as far as I know. Here are his credentials I've taken from his blog; you can see for yourself:
The Future Buzz is the digital marketing and PR blog of Adam Singer, social media practice director for Lewis PR.
His blog, The Future Buzz, receives from 30,000 to more than 200,000 unique visitors per month, depending on the type of content he creates (extracted from his blog).
More than 7,000 web professionals, marketers, PR people and bloggers/social media users subscribe to Adam Singer's content via  RSS and email (data from his blog site).
I'm impressed with Mr. Singer's analytics and blog subscribers; not sure my little one-year-old blog will ever reach those admirable numbers.
Mr. Singer's blog post rankled me; I'm sensitive after having adopted this journey for more than a month to define public relations and facilitate discussion within the profession. There are so many generalities in this content targeting public relations as a whole that are just false; yet they are stated on an influential blog with 7,000+ subscribers.
Credibility in public relations has always been something we strive for as professionals. None of us need a thorn like this from someone working in our very own profession.
(Image: SEOConsultants)