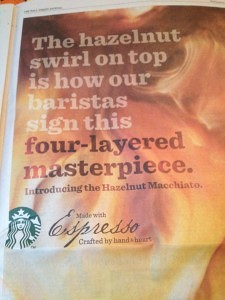 The full-page advertisement in the Wall Street Journal boasts a "four-layered masterpiece" describing the hazelnut swirl atop the new Hazelnut Macchiato by Starbucks. The final words we're left with (there are only 25 words total) are "Crafted by hand and heart."
Several years ago, I complained to anyone who'd listen that Starbucks was in bed with the Wall Street Journal. I had never seen so much publicity and positive stories in this national business daily for a brand without the power and global reach of IBM, for example.
Incidentally, IBM is one of the five stocks being attributed for pushing the Dow to record high on March 6, 2013.
The ad we're seeing by Starbucks today is colorfully creamy with espresso blending into the white latte to show a caramel you can't resist (I never buy those ridiculously expensive lattes that are so full of calories, too). What is an appeal, suggests Starbucks, is that every barista makes  your coffee drink with loving care — from the heart.
I've heard of people say that some baristas write a patron's name on a cup with a cute little heart and a "have a great day" sentiment. I wonder if anyone has ever written a phone number for some cute customer? I think that would be too much heart.
Brands Using Heart Marketing
No other examples of powerful brands using heart come directly to mind, and (I think I just coined a new marketing field, Heart Marketing), so let's do a scan through the last two days of Wall Street Journals to see whether heart is conjured:
Toyota: Toyota Shakes Up Top Ranks. Apparently, the family-owned car giant is now ready to welcome outsiders with open arms to its executive management. Think that's a heart-felt move? Nope, just one of necessity for survival.
Clorox: The general counsel of Clorox, Laura Stein, researched the new CEO's management style to learn how better to work with him. The new CEO, Donald Knauss "likes her go-getter style; 'she will help anyone who asks for help.'" Heart or get-ahead smarts? I'm saying a bit of both. People who help have to be transparent or it's just too smarmy.
Honest Tea: I wrote a post right here about Honest Tea and its CEO op-ed in the Wall Street Journal (what is it about the Wall Street Journal and beverage companies?) and in today's paper that company gets a quarter page of top publicity with three color photos of beverages about Honest Tea's New Soda. This company does have a heart and I know its guiding principles are about heart. Yes, a good example of powerful brands living by and using heart.
Let's think of this a bit differently:
The world is a horrifying place for adults who are in touch with global and domestic news.
While the Dow dinks around in record territory and the housing crisis abates somewhat, students are still faced with record tuition at public universities.
Families are still grappling with lack of employment and other personal issues which contribute to red ink.
Is Starbucks on to something? With its subliminal copywriting that its baristas have a heart and care for you; does that work and will that bring in the patrons to order the new Hazelnut Macchiato?
Heart should not ever be taken with a grain of salt. It's what I'm teaching kidlet — live from the heart, give to others first, focus outward, understand why someone is a bully and try to help them (well that's a bit far fetched for a kid), but hopefully you get my drift.
Heart and Social Media
Heart computes in social media, too.
There are numerous people asking for help.
In fact, a 16-year-old asked me this week two questions about his brand new social media agency. Did I believe his prices were solid and how could he earn some credibility because people didn't want to work with someone so young. I gave him my thoughts more than once and I invited him to write a guest post for The Happy Friday series.
How about the young man who found me locally who was writing a book and wanted my help publicizing that book? Now, mind you, that book of his was ensconced with one of those you-pay-we-publish businesses that just wanted his money; however, I spent time with him and counseled him and wrote a website and did a video with him. No charge.
What does your heart look like? How do you live it?  I'm not talking about how much love you have for your offspring or spouse or partner. I'm talking about the values with which you live at work. Do you spout off about having heart, "C'mon, have a heart already!" or do you seriously come from a genuine place filled to the core with nurturing and caring and a desire to help, teach, support, share, and develop solid relationships?
Powerful brands can try to use heart to appeal to a patron who is down in the dumps; you, however, have the opportunity to make that a reality — a genuine and authentic reality.
What's the outcome of all this? When someone you don't know says to someone you do know who shares it with you, "You know what? I really like that girl, she's the real deal."
Enough said. Show me your heart…there's a place for more love in business and social media. The scuttle butt I'm seeing, reading and hearing hasn't been from the heart; perhaps it should be a guiding principle for each of us.
Related articles