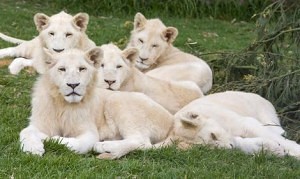 I was along for the ride on one of the most contentious (according to comments) blog posts ever, and based on "Popular Posts" tallies in his sidebar the highest-number-of-comments (250) as of this moment (and no signs of stopping).
I'm speaking of Marcus Sheridan who writes The Sales Lion. He owns a swimming pool company and said he turned to social media in the downtick to save his business. Everyone talks about him, and his brand is authentic and popular. I read my first blog post of his via my reader one late night and was so blown away by his writing and content I kept it as "unread."
So, in earnest, I read his post early Friday morning about Blog World because I had really wanted to go and meet some great folks. Marcus's post was the first recap I would read; however, it's turned more into a critique free for all with the show's organizers, other speakers, other attendees, and even people who "most offended" those in audience during the final keynote.  You can read it all here; it's amazing.
But, that's not what this blog post was intended to be about, although it's a really nice segue.
I was duly impressed with the comfortable feeling I got when I first arrived at Marcus's blog on Friday and felt compelled to comment and then began to hijack the comments in usual banter with Gini Dietrich. Gini and Marcus assured me it was OK to do so when I said, "oops, apologies if this isn't cool."
What that means is a huge welcome mat is open at The Sales Lion. I just went back to check, he has no "Ad Age Power Blogger" badge or other award-winning badges in his sidebar (although, I know if he tried, he'd win something hands down). By welcoming comments from the small and large, unknown and well known, The Sales Lion allows all of us to commune within his community, and that's what he's done tremendously well – create a vast community.
The comments rolled in all day long on Friday and were still going strong through the night, on Saturday and today (Sunday). I was overwhelmed and wondered how on earth someone receiving that measure of comments could get any work done? (Marcus, how do you do that? Manage comments without them controlling your time?) Curious, I decided to check in Friday during dinner and see how the comments were tracking.
Lo, the one I opened was TO Gini Dietrich and it was ABOUT how comfortable the woman felt leaving a comment because others were not just "trolling." (I assume that means bantering?) She felt her thoughts would be sincerely welcome.
And, so, the topic for this post was being written on a napkin in a restaurant and the one comment I decided to open confirmed it was a viable topic. Oh, yeah, and Gini just had to pop in to also confirm we are the same person.
Think about your welcome mat on your blog. What would commenters say about your house? If you need a lesson, head on over to Marcus's and see the warmth and sincerity with which he invites you in. He doesn't need any badges in his margin; he's already an exponential power.
I've written about this before, but this level of engagement is so hugely quality that I need to share. It's Marcus's grace, sincerity, authenticity, and balance with which he responds to each and every commenter and not just with a brush-off. He engages people and invites them back without asking.
We can all learn just by observing; my take-aways are still in gel form, but the first lesson is right here.