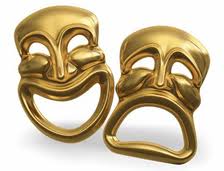 I recently came off a low point bordering on downright "depression." Shhh, I don't like to allow that word into my vocabulary as I hate feeling down in the dumps. Sometimes it's just plain unavoidable.
When these lows happen, I usually fall pretty hard because I'm a 99 percent up person – always glass half full, seeking a belly laugh, giggling at a stupid tweet, and wanting to find the happy each and every day and ride that wave.
But, when everything, it seems, just collapses onto my shoulders from the uncontrollable Mother Nature escapades on the house and vehicle, the start of school and new accelerated math requirements to client relationships that are trying and doubting and tales of lives lost and hearts broken – ohmygosh. It sometimes becomes too much to bear, and I know I'm not alone with these feelings.
Yet, all I want to do is be alone and muddle through. That is why I took a bit of a hiatus from the blog – no incentive, the words would not flow, the ideas were like molasses pouring from a bottle with a small neck.
As a result of this low point, I took the opportunity to grow – as a person, as a coach, as a practitioner, as a friend, and as a mom.  Because, when I really dissected what was making me feel so dumpy, it had much to do with criticism; which I always take to heart regardless of whether someone is in the right or wrong in saying what they've said.  This is part of the challenge of working for yourself – there is no one to balance the thoughts, decisions, actions, or choices.
And, you know? I have NOTHING to complain about; hopefully, this is not coming across as a complaint. It's all about my own personal strength and spirit as I traverse this blogging and social media journey.
There's been much lament of late on the blogosphere. Bill Dorman wrote about it this week on his blog – what's up with everyone "the lights are on, but no one's home."  Many wrote in about change – there is job loss, ill family members, waning interest, time pressures, the glories and hazards of a job hunt, and people just wanting a change. I feel it, for sure. I yearn for the glory days of Twitter of yore, and it will never be the same. These feelings add up to a gray-to-black cloud hovering above, don't they?
For me, it's always a relief to climb out of the hole; for others doomed to reside in there, I feel compassion as it's never easy to pick yourself up with a solid exit strategy from bottom to top.
My few suggestions may be silly to others, but they work for me (please add yours?):
1. Hit the trails early morning and when the fawns cross my path I stop and stare at their gorgeous faces in wonder and awe.
2. Focus out on someone else who needs a boost more than me and put their needs in front of mine.
3. Kiss my child and nurture her to grow with strength of spirit and this spreads warmth through my heart so it glows with love to share with everyone.
4. Ask how I can help someone I see having a bad day; that support is so precious, and when it comes to me even in a simple tweet, I'm thankful.
5. Send a greeting card (Cardthartic is my favorite; all about "Honoring Emotions") to someone unexpectedly. You've got mail!  Yeah! When was the last time you sent a card/letter to anyone? It's part of who I am and I'm raising my child to be the same. It warms you that someone took that precious time to think of you that much.
I know this is a hokey post and off base for me, but you know what? I'm not going to pull the wool over your eyes and make you believe that I'm not human and need a hug sometimes, too.