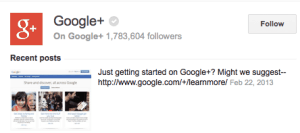 By Jayme Soulati
In developing my piece on Google Authorship, and another one this week on niche networks, I needed a link for the words, "brand evangelist." What happened in the next three minutes shocked me into writing this piece and made me extremely nervous that Google+ is going to influence influence marketing whether we want it to or not.
The steps that occurred are spelled out here carefully so you can follow along. See what you glean from what I did; do you come to the same conclusion, or not?
My search for "brand evangelist" was returned by Google. I saw a series of Google Plussers who had written a post or piece published on Google+ featuring these key words.
Each of the folks listed were mentioned with their Google Authorship profile. There was a photo as well as the number of people this person had in circles and the number of circles this person was in.
I scrolled down page one of my search on Google to see if I recognized anyone.
Way at bottom, I saw Mack Collier's name although his Google Authorship information was not included because his post was pre-Google+.
Because I didn't recognize an author or publication (there were few), I looked more closely at each person's Google+ profile seeking anything that would help me discern influence.
I saw the quantity of circles each person was in; wouldn't that mean something? The peep with the highest number of circles would supposedly be more influential, right? And knew what they were talking about? (Remember, this was happening over a minute to find one hyperlink.)
I set out to select the link for the person with the most circles.
Inadvertently, I had just discerned that I would select a hyperlink using someone's Google+ post content in my blog post based on the quantity of circles associated with that unknown person.
I am agog. I believe strongly that it's never about quantity; it's about quality!
I did the exact thing that people complain about Klout for; I associated influence scoring of my own creation and subconscious to determining strength of content and influence.
I knew, without a shadow of a doubt, if I had automatically begun to select someone from a Google search with the highest number of circles, then every other company would be doing the same without a shred of second thought.
What does this mean for how influencers are screened?
Anyone who understands what's written above understands what I'm getting at…we can hide behind a Klout score because it's not well-known as an influence metric.
When someone in business plugs in a key word or phrase and watches those with Google Authorship turned on scroll by, then the ones with the most circles wins, right? (Based on what I just experienced first hand, to my utter chagrin.)
One can only hope I'm wrong. Danny Brown, Sam Fiorella, Neal Schaffer? Can you weigh in on this, perhaps?
Related articles