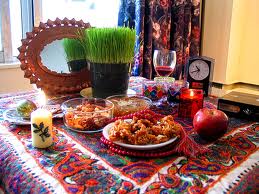 People may or may not know I'm half Persian. I lived in Iran as a kid (off an on from third grade to sophomore in high school), and still speak, read and write Farsi at a third-grade level. I guess my accent is laughable, but who's wouldn't be if you've not practiced each day with a native speaker?
Anyway, yesterday/today is the Persian New Year, Noruz — No (means "new") and Ruz (means "day"). It is the most important holiday of the year, and it occurs on the spring equinox.
What's interesting to note is what year it truly is, and that's subject to the Islamic Lunar Calendar (1432), the Islamic Solar Calendar (1390), or the official Persian Imperial Calendar (2535). See below from FarsiNet; I have no ability to calculate this without help!
Question: How did FarsiNet come up with 2570 for 2011's NowRuz? Iranian Government calendar says NowRuz 1390!!
Answer: The Islamic Republic of Iran Government uses the Islamic Solar Calendar (2011=1390). Majority of the Islamic countries around the World use the Islamic Lunar Calendar (2011=1432). But, as we all know, Persia (Iran) has been around and NowRuz has been celebrated much longer than that.
We used the official Persian Imperial Calendar published by the Iranian Government. The persian calendar year 2535 is documented on the official 50th anniversary of the Pahlavi Dynasty Bank Note & Stamps issued in 1976. The Persian Imperial calendar is based on the establishement of Persian Empire by Cyrus The Great.
Haft Seen
This first image is called the Haft Seen or 7 Esses (S). The items on this No Ruz table all begin with one of the several letters in the Farsi alphabet that denote "S." For example, "seeb" means apple and "seer" means garlic. Each item has a symbolic meaning, and this Wikipedia definition if a wonderful history of the entire event that is celebrated in more countries than just Iran.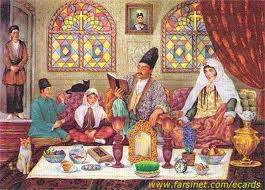 Childhood Memories
Each NoRuz, our family would dress up and go visiting. The adults would give the children gold coins and other gifts, and everyone would serve tea, sweets, fruit, and huge feasts for dinner. We grew "sabzi" or green grasses from wheat and lentils in a dish. Afterward we threw the grasses in the river to get rid of bad luck for the new year. This 13th day after NoRuz celebration, called Seezdah (13) Bedar, was a family celebration with picnics in the mountains and gardens.
Today
My Twitter friend asked my how I celebrate. I sent my Dad a spring bouquet of flowers today, and sent celebratory messages to my family in Iran and elsewhere. I like to recall my youth in Iran when the world was more at peace. I will ignore the call by Ayatollah Khamanei in Iran for Islamic Jihad this entire year and not provide any links. When I look at the theaters of war around the globe, I am doing my best to focus on family and health.
You do the same, OK?