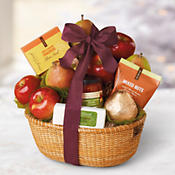 In the midst of the holiday season with gift baskets flying across the U.S., took time to read this blog, see a negative net promoter score, find a contact form, and write an email to fix what they thought was a remark against its brand that needed attention.
I mentioned Harry and David, the online fruit and foods retailer, in a recent post, In that post, I suggested my experience with the fruit of the month club was disappointing while others had a lovely experience with the company.
The company's social media team was listening. Over the weekend of Dec. 15, 2012, I received a contact form comment from Harry and David. They offered to send me a gift because of my previously poor experience with the company.
My response to Maria of Harry and David was to thank her with a polite refusal saying the company's attention and response was gift enough.
She continued to insist; I acquiesced and within a very short time, I received a gorgeous holiday gift tower complete with pears (the company's fruit is top quality), candies, nuts, salmon, cheese, and other goodies.
I applaud Harry and David for having a social media team at the frontlines listening, monitoring, tracking and responding in a very personal way.
I'm so impressed the company was proactive and also gracious enough to showcase tremendous customer service during an extremely busy time.
Thanks, Harry and David, I'll always be a promoter of your brand and excellent products.
Related articles