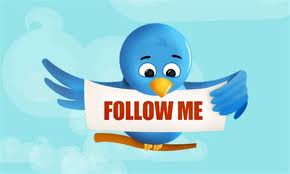 What fun yesterday's post, Why Not to Reach 50,000 Twitter Followers, during which I engage David Meerman Scott, a power influencer and author of numerous social media, marketing and public relations books, who did earn 50,000 Twitter followers recently via persistence and diligence.
The post was re-published on Social Media Today which earned 1,000 views there and four comments. It was in this venue that David replied to my post, although I tweeted the blog yesterday to him several times and the pingbacks he got from my blog post were myriad (although likely not too influential on his radar).
What David shared with me on Twitter and in his comment on Social Media Today was that he uses Twitter differently with 50,000 followers. Here's what he said (lifted directly from his reply):
Thanks for sharing my post. I appreciate it.
The truth is that with 50,000 followers, the way I use Twitter has changed from how I used it when I got started.
1. I look at every mention of my Twitter ID, my recent book titles, and hashtags of conferences I am at or about to travel to.
2. I cannot answer everyone who says something about or to me, but I do try to respond to some.
3. I look at all DMs. Most DMs I respond to. I'm cool with requests or ideas or subtle pitches, but spam me once, and I unfollow in a second.
4. I rarely dip into the full stream of 33k people I follow. But that's okay. Nobody ever said that it is a requirement to read every tweet from everyone you follow.
5. I use Twitter to curate content — send people to things I think are interesting.
You can't be at every party in this life, so don't try!
David
What's more interesting to me is how Michelle Quillin of New England Multimedia regards my post (and its underlying objective which I firmly discount), David's status as an influencer, and how the little guy uses Twitter compared to the big gun.
Here's Michelle (who owns one of my favorite Facebook pages, too, incidentally):
I remember when I first started using Twitter for New England Multimedia a little over a year ago, how enamored I was with the thought of having tens of thousands of followers! That was before I understood how Twitter worked for a business, though. For people like you and I, engagement/conversation/relationship with our market is very important, and a serious investment of our time each day. Without those relationships, our time on Twitter does us no good whatsoever. Time is money. We'd be wasting our time and driving ourselves into the poorhouse if we weren't building relationships with businesses who may need our services, or with influencers of OUR target market who we hope will retweet us or engage with us and give us market credibility.
David Meerman Scott has reached a different place on Twitter — that of a "power influencer." The value of his Twitter following is different from ours. His followers find value not in engagement with him necessarily, but in hearing what he has to say. That's how he became an author who's actually selling books, a keynote speaker who's actually paid to teach at conferences, and now the subject of a blog post designed to engage him and bring traffic to your site. (The latter being perfectly legitimate, by the way!)
(Jayme: Here's where I'm dumb; I had no ulterior motive to increase traffic by engaging David; it just happened as I was seeking something to write about!)
Everyone gets to draw their own conclusions about the comments above from two vastly different businesses (in size, scope, and engagement objectives). As for me, Twitter provides hidden gems and to lose those with too many followers would be seriously depressing.
What do you make of all this and your Twitter experiences?