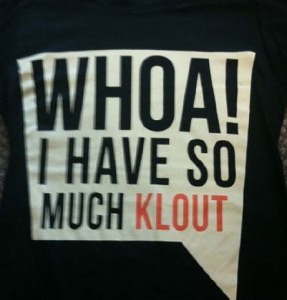 Were you as surprised as I was to see your Klout score bottom out nearly 14 points lower yesterday? I looked twice and did a "huh" and then remembered it was planning a total revamp of its algorithm and people would not be as influential as they thought they were.
Yawn. Whatever.  So what?
Let's remind ourselves what influence is – there's been so much discussion (the 'sphere is alive and kicking with all the Klout posts today) about whether a number dictates your influence. It doesn't! But, we're all so competitive that when a number is associated with us that correlates to the frequency of tweeting and posting, we start to believe it!
Yesterday on the #MeasurePR Twitter chat with @Shonali and @JenZings, that question came up…is influence measurable?  I believe, perhaps, but not via Klout. Is Klout monitoring key words and strength of message within each tweet and post?  Who is awarding the +K and is it a game like for "cougar," "sheep," "wine," or other non-influential word?
Imagine a software salesperson who RTs 100 tweets/per day; his Klout score would increase for sure. Now, look inside those tweets and see what they say – are they all tech oriented, or not? The latter…and herein lies the problem.
Klout is "measuring" frequency of exposure not the content within that exposure.
So, with your lower Klout score as of yesterday:
1. Carry on, Garth. It's business as usual!
2. Create the engagement in your community you've been striving for all along.
3. Keep the conversations going about issues near and dear to you and recognize you will get something out of that communication but your Klout score will remain as is.
4. Don't get so caught up about a number. Who are these guys anyway, associating their arbitrary algorithm to every peep who tweets? When you sit back and think of it that way, it's clear – you are master of your own influence and no one else.
So, ready to ignore Klout and keep the momentum going?