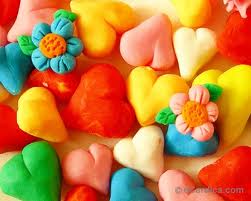 It's what I teach my child every day—live with a loving heart.
I had to write about that and remind people to do so because where I walk, live, read, breathe, eat, and play, love is absent. There is so much anger amongst people right now; there is so much animosity and inability to smile or be friendly.
Most of all there's no compassion.
Is it because I'm older now, and I can see through the angry façade of folks who might be protecting something inside or who are envious or suspicious of loving kindness?
What about those who want to always win on the tennis court and when they begin to lose they become ultra bitches? Yes, I play with women who believe themselves to be royals on the tennis court. I find that to be mental harassment. Please, ladies, anytime you think I'm reaching that point in my tennis progression, tap me on the shoulder?
My instinct is to trust. I'm naive that way, and it's a lesson learned the hard way. I was recently told, "Maybe I'm too good." Eh? Who says that? Better yet, what does that mean? I recently met an altruistic person, and that is not me, but where is the fine line and how did we all become so cynical?
A Little Ditty About Jack And Diane
This is really not a story about Jack and Diane, but Jack and Shirl. Jack recently passed, and he was a month shy of 88-years-old. Shirl, his wife of 65 years, is 86-years-old. I am the neighbor who has been raking their leaves for four years.
When Shirl had a procedure to help her retina re-attach (a gas orb was inserted in her eye), I came by to set up her medical device, a chair that required her head to be facing the floor for two days. I checked in daily, got their groceries, took her to the doctor and took them both to the doctor. No problem, I was happy to help and found great joy in sharing a bit of time with Jack and Shirl. He was so friendly, caring, and called my daughter "Jazzy." I knew him a short time, but cared.
Then, Jack passed away, and the family surfaced to treat me with a huge cold shoulder to my face. It was awkward, I was uncomfortable, and I was also upset. The family suspected that I was going to take from Shirl, right?
Now that the family has gone back to life, Shirl called me first thing Monday morning to ask whether I could take her to the grocery and whether I could drive her to the hearing aid place. I did, I would. I told her we'd schedule a regular outing on Sunday, and she said, "I want to go to Menard's. Wouldn't it be neat to walk around that big place? Maybe I can find a new toilet seat." And, I replied, absolutely. If I can give her a bit of happy in her sadness, that's the intent.
We Need A Loving Heart
There is now only suspicion about fellow humans who look differently than you and who may dress differently than what you're accustomed to. Coming from a huge urban city like Chicago, it's where melting pots simmer. Living in a small community where cultures don't often collide, there is more suspicion about our neighbors.
I don't know how else to be. The world is at war with a terrorist group that wishes to instill fear into our hearts, and it has succeeded at that. There is no compassion from them so should we give them any in return?
Instead of thinking about that, start first with your own heart and the hearts immediately around you – your siblings, your parents, your partner, your children, and then your friends. Live with a loving heart because another heart will love you back.