Announcing the Debut of
!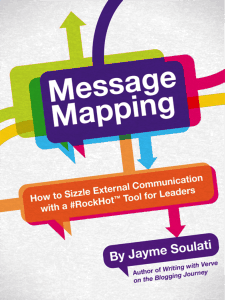 What Is Message Mapping?
Every company has a set of messages it uses when communicating with audiences — whether stakeholders, media, or employees. At least, every company SHOULD have a message suite to consistently share the same information (like a song sheet) to anyone listening.
What about your company? When was the last time you engaged in a messaging exercise FROM A PUBLIC RELATIONS PERSPECTIVE? The latter is in caps, not to shout at you, but to emphasize the importance of messaging featuring a PR orientation (rather than a branding orientation).

The message mapping product, delivered by , president of Soulati Media, Inc., helps companies communicate with external audiences. It's not messages for internal marketing teams to use when describing products; it's the suite of storytelling messages that share every aspect of a company from teams and products, to history and market differentiators. This important messaging platform is for all the folks on the outside of the company to learn what's happening on the inside of the company.
Who Needs Message Mapping?
Pshaw, you say? You already have a message map? When was it last redone and with which executive team's engagement? What's been happening at the company you might need to update?
These are all solid reasons why your marketing team ought to engage Soulati Media in a messaging exercise — your messaging platform requires a refresh and a reset. If you've not addressed this in the last five years, you need to.
Many business start-ups MUST have a message map. There are too many elements to storytelling for start-ups to share; without a strategic message map that story will have holes — not something you need when speaking with investors.
Why Do Message Mapping?
Social media has permanently altered the business landscape. Consumers are coming at you from all angles; what are you saying in return?
Rather than expect a frontline social media intern or outside agency to guess what to say on Twitter or Facebook about your company, you can present a message map with more in-depth messages to these teams. They will absolutely know what to say when sharing news about your company.
What Is A Message Map For?
An approved message map and suite of messages are required for all companies.
The message map is rooted in media relations; it's the guide for company executives to tell the business story to media. Today, a message map acts as the foundation for social media marketing, copywriting, blogging, website development, employee communications, and media relations.
The best use is as the go-to corporate guide and resource for approved messages from the executive team. There's no better resource to have than this.
How Jayme Soulati Facilitates Message Mapping
Jayme Soulati, a veteran practitioner since 1984, is a media relations expert. Her work finding news and pitching media with company stories drives her expertise in message mapping.
Here's the basic structure of how Jayme facilitates message mapping:
The first three-hour session is with the leading team of executives and management in person.
Open-ended questions are posed, and everyone contributes.
Notes are captured on sticky-notes and iPad, verbatim.
Raw notes form the basis for message themes, categorized by areas of the business.
Message points are added in support of a main theme.
The document, once approved, becomes the song sheet.
The final messages are mapped into a schematic that presents all the concepts on one page for easy navigation and use by company spokespeople.
How Long Does It Take?
Each company varies for length of time from start to end product because there are many variables and schedules to consider.
The minimum time required is four weeks, and it can take up to six weeks to complete a strategic map and get buy-in from required stakeholders.
How Much Does It Cost?
The answer to this question requires discussion with Jayme Soulati and you!
Understanding the variables has to be done in a conversation, and once that's complete, a quick proposal can be submitted for your approval.
Interested?
Please reach Jayme right here! She is online 24/7, except when she has to grab a bit of shut eye…!
Related articles