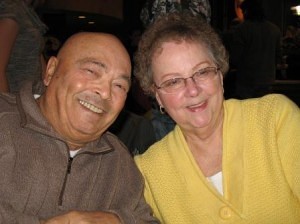 My mom Wilma grew up in a small Wisconsin community merely a blip on the map, and she met my dad at University of Wisconsin Stevens Point. They married and after a year the kids (me first) began to arrive — four in total.
When my sister was six-months-old, and I was 9-years-old, we moved to Shiraz, Iran, a city of roses, poets, and Persepolis. My mom had never been out of North America, and back then, Iran was entirely third world with no Westernization whatsoever.
She ensured we had many comforts, and if she couldn't find it, she just winged it. She is one of the most creative people I know – knitting, crocheting, tatting, felting, making dolls, weaving on a loom, creating anything for anyone.
Our life in Iran was rich with friendships, gatherings, and celebrations. (We had no television or telephone.) At Thanksgiving, my mom and dad hosted some 40 people consisting of a mix of cultures and ethnicities stationed and living in Iran who couldn't fly home for the holiday. Mom found ways to make the foods we all enjoyed (she used persimmon to make pumpkin pie), and we definitely had mashed potatoes!.
She made us home-made peanut butter, and we loved our pizza from scratch. She rolled pizza crust, and I have no idea what else went on it, but I know we liked it. We even had spaghetti from the international grocer.
All of we kids learned Farsi, and mom tried to, as well. It's a rather challenging language to learn as an adult, especially with the sounds that require back-of-the-throat gurgles and throttles.
As a family, we hiked mountains, we went on picnics, and we did crafts. I still have the Christmas ornaments we made in Iran from craft kits Mom bought in the States for us. The flat wooden shapes we painted, the angels and Santa Claus sequined pieces, and especially the garland made from tin foil and straws.
My mom was totally out of her element in a foreign country where women wore chador and have always been inferior to men (she being blonde and pale-skinned). Yet, she really ensured we had Halloween costumes and celebrations and family.
Earlier, when I was really little, mom and I had beauty day. She'd do my nails, and fought with my curls to straighten them a bit. She'd put big rollers in my hair with that shower cap with the hose on it and hooked me up to her dryer. When I got home from school, I watched Dark Shadows, starring Barnabas Collins, until I started to have nightmares and had to stop watching! (No wonder I like to read vampire books; thanks, Mom!)
Mom, Dad, my younger brother and me visited with Santa Claus each year; it was a big deal with lunch and pictures and everything. We didn't have much money growing up; but, we never felt poor. Mom always made the best home-made birthday cakes for our birthdays (I especially remember the cake with a Barbie doll inside.) And, she decorated the best cupcakes for us to take to school on our birthdays, too.
There's a lot to be said for women who devote their every waking moment to raising four children in foreign countries and elsewhere. She held together better than most, and it's taken me to be a mom myself to appreciate just what she endured to keep our family on rock solid ground with strong family values. I, for one, benefitted. Even now, she's still here, anchoring our lives with her love for us and our children — my daughter most of all.
I'm forever grateful for the unconditional love, support and anchoring both my parents have provided me through thick and thin. I realize how fortunate my daughter and I are to have a solid parental framework that has been the foundation of my life.
It's Mother's Day today, Mom, and knowing that we still get to have you in our lives is one of the best gifts ever. Thanks for being here to celebrate our family. Love.