This Momaraderie feature was presented to me by Erica M. Allison, president of Allison Development Group, who writes the blog Spot On.
By Erica Allison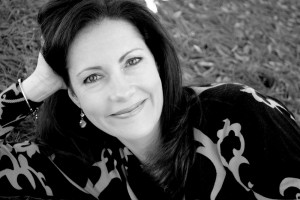 Meet Candice St. Pierre, a single mom of two and an ordinary mom with an extraordinary story to tell.  This single mom has managed to rewrite her own story in just five short years and is approaching a major milestone in her life on 11.11.11.  St. Pierre turns 40 and is choosing to celebrate this occasion in major style (think Arabian nights here).  Her party represents her enthusiasm for living, the cornerstone for her amazing transformation.
Candice's story is one of inspiration, wellness and reinventing yourself in tough times. She wants to share her story of everything that she's overcome and all that she has achieved today in the hopes that it can inspire other moms out there.
In 2006, this Midwestern girl from rural Illinois returned to the USA from Germany with two little ones in tow. She was going through a devastating divorce, near bankruptcy, no job prospects and trying to stretch child support with two kids, shelter and food.  In addition, she was unhealthy and overweight.  When she landed in Greenville, SC she had no idea how she would turn her world around; there was no opportunity for an Eat, Pray, Love trip here.  Instead, she focused on breadcrumbs and finding her way one important step at a time.
Five Years Later
Fast forward five years and Candice has wiped out $50,000 in credit card debt, over two-thirds (2/3) of her $100,000 in student loans; has a solid retirement plan and financial security; has a successful job and is currently planning a new, independent venture; and, is in the process of writing a book chronicling her story and her steps to financial and personal freedom.  Candice is also 40 pounds lighter, with a new body to show for it; she recently competed in the Carolina Supernatural (body building/ figure competition) placing fourth in the Figure, Tall category. It was her first contest and a true testament to how hard she's worked and succeeded.
"Our mental, physical and emotional selves are interconnected," said St. Pierre.  "Interestingly, I found a study that shows a correlation between weight loss and income.  As you lose weight, your income goes up.  I can attest to that!"  St. Pierre is pleased to say that her credit card debt is gone, the legal bills are gone and she has paid off more than half of her student loans.  "I am well on my way to being debt free," said St. Pierre
Candice is the first to say she did not achieve her new optimal self on her own. As a single mom, she's sought out help, and still does along the way. "It is not possible to do anything by yourself," said St. Pierre.  "Somewhere along the way, you need the help of others."  St. Pierre advocates hiring others to help reach goals, but only if one's basic needs are met.  In order to pay for advisors and coaches along the way, Candice focused on the necessities, but also took tangible actions, such as cutting off cable and garbage service, in order to free up funds to pay for help.  "Sometimes, we have to make hard choices to move ourselves forward.  The stronger we become (emotionally, physically, and mentally) the easier it is to make the right choices for ourselves," said St. Pierre.
Candice's story demonstrates that it's never too late to rewrite your story.  Connect with her on LinkedIn, she'd love to hear from you.