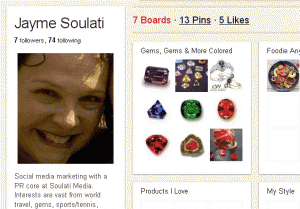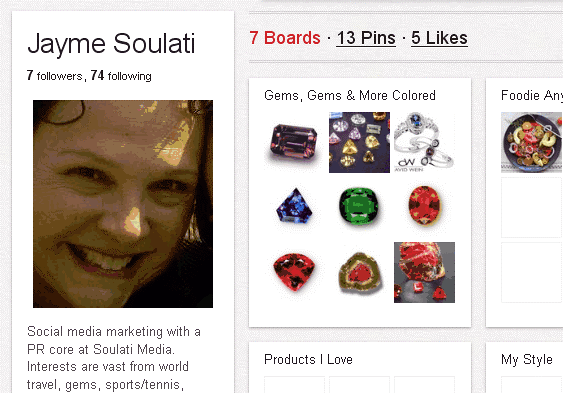 I hem and haw all the way to a new channel; everyone knows that about me. I let the leaders be first movers, ahem, Gini, and I watch and read as they navigate uncharted waters and inform us all. Why not? They're the leaders! Heh.
And, so, I asked for and received my Pinterest invitation, thank you, Gini, and hopped on. As with anything new, it takes a bit of concentration (no multi-tasking, Kaarina) to figure out. In fact, I read the help questions which I think are helpful (fancy that).
So, here's the first impression, guys:
Run, do not pass go, do not collect $400 (inflation), and ask for your invite right now (ask me now) to jump onto Pinterest immediately. Can you say addiction? Can you say stairway to heaven? Oy;  we who are engaged are done; turn me over and bake the other side.

Why you ask?
>>Visual-ness — the most appealing sensory
>>Personalization with high-level creativity
>>Engagement less serious and more fun
>>Provokes thought and (did I already say this) creativity
From a business perspective:
>>A board (what you create to pin images on) can be about your clients. You can promote clients' products and services with the images from their websites, etc.  (Companies have a harder time promoting themselves, as you've read, but an agency (hands down) will have no problem. I have not researched disclosure yet; Gini, do you know?
>>Blog fodder is amazing. If you want ideas for your features on your blog, have at it. Ubiquitous . Limitless.
>>Business development in a highly creative way. Let's pick on the Gin Blossom once more here…if you read her profile on Pinterest, you'll find she's an avid biker and foodie. When you look at her boards, you see the foods she wants to make in the future. If I were a restaurant and she was a celebrity chef (she is , actually, just find her Tumblr blog), I'd invite her, via an agent of course, to make an appearance in my establishment and prepare a meal under the bright lights of cameras and video, etc. etc.
For me, I took some time understanding how people were using this. But, I won't do that again, as there doesn't seem to be a method. As soon as I pushed my first pin, someone I didn't know re-pinned and another wrote a note. I had to determine access points to respond, and then I continued to complete my first board, "Gems, Gems and More Colored Gems."  I bet no one knows I want to be a gemologist in the next iteration of moi. I feed my yearning with world travels to gem locales and wheel and deal for another to add to my collection (at least I used to prior to becoming a mom).  Pinterest allows people to see that very personal side of others based on the boards with pinned images. If someone is highly private, then stop on go. Pinterest is NOT for you.
So, ask me for an invite; you will not be disappointed.