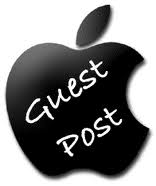 Guest posting can be a wonderful thing. I've written about how you can be a better invited guest, and I'm wondering how well you're finding the experience when you guest post at others' homes?
The last month or so has been quite zany on my guest-posting circuit. I saw Laura Click do this this week on her blog, and while I'm not familiar with its etiquette, I'm going to use Laura as inspiration to:
1. Share my latest round up of guests posts around the world
2. Thank my hosts for inviting me while returning the favor with some love backatcha
So, here are some pretty decent writings (because I work harder as a guest poster to write better) I'd like to share, for the record, all in one spot:
##  Danny Iny is principal of FirePole Marketing, and this week my topic is on small business branding. Apparently, Danny went off on a honeymoon (congrats!) and had to fill the pipeline whilst celebrating. Stop in and share your thoughts on how your small business branding is successful or getting derailed.
## If you don't know Robert Dempsey, then you're missing the boat. His intellect and amazing approach to analytics and SEO is astonishingly smart. He blogs from Thailand, and he invited me to share insight on blog voice, so I wrote on Finding Blogging Voice with 3 Cs.
## Jon Buscall of Jontus Media in Sweden invited me to experience my second podcast with him, and we had a blast speaking on social media best practices (although we rambled about so much I don't believe we ever got to the actual fine tuning of a best practice, did we Jon?).  Jon is the master of podcasting; I am always amazed and slightly envious that I'm not doing it, too.
## My public relations colleague from Bulgaria, Petya Georgieva, invited my topic on whatever I wanted (always a pressure-filled endeavor to pinpoint a topic) so I wrote on Social Media Makes the World Smaller.
## This man, Ken Mueller of Inkling Media is a hoot. He cast a wide net for guest bloggers and I acquiesced. And, I wrote a really, really good piece and then he sat on it. For a long time. I began to give him grief and threaten to publish it before he did…that did it. Here's one of my all time favorite pieces with a ton  of real-time inspiration called Bloggers On Pedestals.
## The venerable and highly intellectual Spin Sucks is always a destination location for any blogger, and it's with great pride when I write for them and see my name in lights (ahem, just half kidding). Another highly popular post in my twin's community "Three Things Threatening Authenticity."
## Ms. Laura Click (love that name) was first to grab me during her holiday out of the office. I filled the queue with a topic on how to build a blogging community…had never even thought about it until she asked for that topic; in fact, I don't know the first thing about that…heh.
I still have a few more guest posts to fulfill, and ideas are gelling, promise. Meanwhile, thank you, wholeheartedly, for the invitations as above. I enjoyed visiting your house!