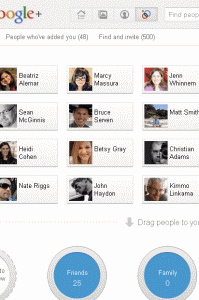 I would be remiss if I did not share my thoughts about Google+ after a weekend of playing. Here's the upshot…RUN to Google+ and reserve your profile and nickname before others, especially if your name is common or there are duplicate names to yours.
The site is intuitive, addictive, fast, and organized. My network is not just being built from Twitter and Facebook, thank goodness, it's coming alive with people I don't even know.
* And, that's what's cool. Google+ is organized in circles. You can put peeps into a circle of friends, social media types, PR, family, following, or any other category you create and name. I found that I have pretty much three circles only; not sure I need to skew them deeper than that. If I did, it would be a simple click with a really cool interface to make it happen.
*As for content, I'm a bit unsure about posts up there. The weekend was full of banter; ahem, Ms. Dietrich was scamming the poor system in search of "free beer."  I think she found it.
*What people are saying, and I fully agree, is they don't want to see content being cross-posted from Twitter and Facebook. Because so many of us are connected on all channels right now, the cross pollination of content and repetitiveness would become  unruly. This remains to be seen…how folks will elect to share.
* The jury is still out how to best use this channel. What I'm hoping for is a more professional channel of business folks that would create a hotbed of learning, testing, and challenging/useful content. Again, if you follow those types of peeps and organize others into circles, that is highly likely to happen.
* Here's one critical tip — secure your nickname. Here's the link and it appears like this when you're done http://gplus.to/jaymesoulati In box one, type in the name you'd like to use to identify yourself. In box two, copy and paste just the numbers from your current Google+ account (found in the url in your browser). Click "add" and voila. You can use this to identify yourself rather than a cumbersome set of numbers and unwieldy url.
* When people  you don't know add you to their circles, add them, too. In this beta phase, all peeps should be safe (not spammers yet unless her name is cough, Gini, cough).
* Re analytics, there's a lot of banter about whether this channel will help drive blog traffic. Why wouldn't it? I already had an alert for my profile here; I know that Google, being the search engine it is, is going to be monitoring traffic inside and pushing attention to the outside.
* One thing that is slightly disturbing to me, though, is the amount of data being transmitted via Gmail, to Crackberry and to iPad2, plus other mobile devices. Think about it…how will we keep data plan charges down when the mobile providers are all going to fee for usage plans? Anyone else have a thought on this? I got the idea after seeing the huge spike in Gmail traffic to my iPad and Blackbery; that's a bit worrisome.
What's your first impression, folks?