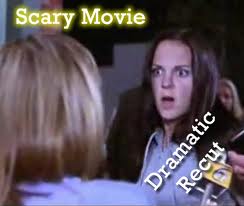 I knew as a blogger I had to get into vlogging, and it irritated me that I was behind the eight ball watching the perfectly gorgeous presentations by Erica Allison at Allison Development Group and Gini Dietrich who has the style of a regular TV broadcaster on her effervescent productions with bicycle in hand over at Spin Sucks.
When I get an idea or set my mind, I will not rest until it happens. That's how that scary first video occurred yesterday – spur of the moment, no planning, just run with the tech and fix it later. Now, mind you, I have to admit, it had been brewing a few days that I would do a skit with no audio. Funny; I listened in real time to someone watching and she said, "What's wrong with my sound?" (Nothing! Intentional!)
*I had tried some time ago to do use my Kodak  Zi8 pocket recorder, but that dang thing swizzled on the stick and my head was moving to keep up with the camera. And, I didn't know how you tested the picture when you couldn't see yourself for positioning, and the sound was horrifying! Who cares about lighting…sheesh.
Enter iPad2 (the best buy of the century). I downloaded FlipCam App, but that didn't do anything. I found the video cam that allowed me to reverse the lens to shoot me instead of what was in front of me. Cool.
Then I had to play with the tilt because the iPad was in its docking station that caused an angle with more of the ugly ceiling and wooden ugly beams to be more visible.
Lighting; as I said fuhgeddaboutit. That was an entirely other matter I'd grapple with later.
Recording complete, I tried to email the file, but it was too long; however, I was able to upload to YouTube. Well, upload where? I quickly went to my account and saw a user name I didn't want, "jsoulati." So, I deleted the account, and created a channel for my company, Soulati Media. Then I hit "upload to YouTube" from the iPad. Voila! It appeared! I watched it and at that moment Erica Allison phoned, and I was absolutely freaking out that I'd do this.
Next step: upload video from YouTube to blog. I found the button; grabbed the code and hit "new post" on the blog in html format. I added the code, but it kept disappearing on me. I wrote brief introduction and posted; video was not there! Went back to html format and uploaded code again, hit save, update, and success!
Then, the embarrassment, chuckles, relief that everyone thought I was a total clown and really wanted to hear me talk (wait for the next one), flowed in. There's good thing launching scary video about noon; not too many peeps are tracking on Twitter then.
I think I've done a good job, along with everyone else, of letting the world know my scary video is the start of something pretty scary. Watch out world; here I come!