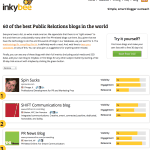 Look at whose blog is rated #1 among 60 in the world for PR from Inkybee? (And, ahem, this blog right here is ranked 29!)
Ms. Gini Dietrich of SpinSucks fame and CEO of ArmentDietrich claims that top spot and to no surprise of mine. Gini has been rockin' PR and social marketing blogging for nigh on seven years; in fact, Spin Sucks just had a birthday!
I had the distinct pleazhure of seeing my twin, the Gin Blossom, in Louisville where that guy, Mr. Social Media Explorer himself Jason Falls, invited us both to present.
You can see  Gini's presentation on SlideShare here, and  you can see Jayme Soulati's presentation, Savvier Social Media Across the Marketing Blend, on SlideShare here.
I could not resist grabbing her for a few minutes for a Soulati Media On The Street, and it will be your pleasure to hear the giggles roll as we share in our 'raderie.
Enjoy my BFF! Man, do I love being behind the cam…
Soulati Media On The Street With Gini Dietrich
Related articles