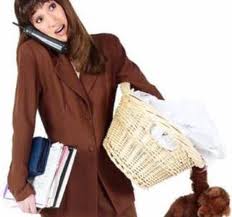 Hello world; I'm a mompreneur in summer. Not a day goes by starting April 1 that mom-owned businesses don't struggle with June, July and August. It's called summer in the northern hemisphere, and we who also dual as moms die. That's right, we die, and don't tell me you don't. Let me be equal opportunity and include dads here, too. Dads, you die.
*The kids are off school.
*Camp starts 90 minutes later than the school bus arrives, and ends an hour earlier than after-school programs (-2)
*Taxi service daily required to and from camp and appointments. (-3)
*Bedtime is up for grabs; likely 90 minutes later. (-4.5)
*We may as well just subtract 30 more minutes of quality work time to make it an even five; that's FIVE HOURS of LOST WORK DAILY IN SUMMER!
Sorry, I'm screaming; it's what summer does to me bar none. It's the biggest lack of routine I've ever experienced, and I begin to wish for school about July 1. This year I'm not going to stress out as terribly as I did last year or the year before or the year before that. How will I do that? Not sure, but here are some things I've put in place:
*Hired three people to help pick up the slack in between their kidlets being home for summer and their vacations and their full-time jobs. Heh.
*Hired the 14-year-old across the street to come 3-days a week from [4:30] to 7 p.m. so I can exercise on the trails and pick up lost work time (that means finding food for the sitter, too, right?).
*Begun to query moms for play dates in the evenings and perhaps will ask the folks to help out, too.
*Promised to unplug from social media.  (KIDDING! But, wow, wouldn't that buy me five hours of time a day, and I'd be back to center?)
I have no idea how this will work, but it's a start. What are you doing with your kids this summer when you're working?