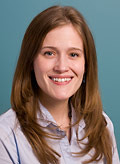 It's not Sunday anywhere until Saturday, so #Follow Friday, @JennWhinnem.  She needs a little boost of support, love, encouragement, and friendship today as she manages a medical condition she rarely speaks about and you'll never know she has (until you do).
Yesterday, Jenn sent flowers, and they were purple to match.  She knew someone had a broken heart, and she focused not on herself and her convalescence, but on someone else she knew needed a hug. That's the most amazing gift one can give – generosity to others, focusing outward, and sending love when she's the one who should be on the receiving end.
Jenn is one of those special friends who will make you laugh, make you think, and make you marvel at the quality of writing she shares with us on occasion. She's a regular guest author here, and she's graced the likes of Shakirah's, Mark's, Jon's (and who knows who else's) houses, with really cool pieces.
Jenn now works at the Connecticut Health Foundation as the communications officer where she's implementing vlogging, social media, blogging, and a bit of PR, if I'm not mistaken. I'm missing her on the Twittersphere as a result of her recent gig, but I'm so glad someone is benefiting from her many talents.
I've often asked Jenn for her opinion about Facebook strategy and building out pages; if she didn't know the answer, she'd go find it and send me a link – immediately. She seems to be in the know about the latest applications and will share with anyone who asks so they know, too.
I've never seen Jenn not smiling. Perhaps today's gift in kind, Jenn, will ensure your pearlies are visible to those around you.  One thing is for sure, you've managed to be the most selfless person I know – putting me in front of you during a time when you should be first.