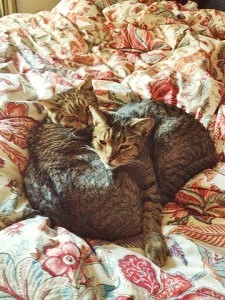 New Year's Eve is my favorite holiday. I like the edge of things, the precipice. I like the feeling of a shared global experience. I like that you can say Happy New Year! to anybody you like. It's happiness you can spread.
The secret to enjoying the new year is not to make resolutions. My family either focuses on a theme, or else I think about life changes in February – when the gym is less crowded.
5 Factors Contributing To My Happiness Right Now
1. Snow. It snowed last night. I love snow when it's not inconveniencing me. It's pretty, and I throw a mean snowball.
2. Prevent guest blog crime! I hate the camera, so I was surprised when I had a blast filming this video for the Communications Network (the association for communicators in philanthropy & nonprofit). In their Zero to Ninety Series, you have to give one takeaway for your viewer in fewer than ninety seconds. Watch my video and you'll find out how to steer clear of guest blog crime. Plus I think the video is really funny and I'm proud of it.
3. Math. My stepson actually enjoys having me grill him on his multiplication tables. What!
4. Kitties. Two new kitties came to my house for Christmas. Their names are Johnny Shutup and Ernie Shutup. They are extremely affectionate. I'm working from home today, and they still want their lap time. Here's a picture of them snuggling together when we weren't looking.
5. Seattle. I'm going to Seattle in June for my sister's graduation. Seattle is my favorite place in the US, hands down. I can't drink coffee anymore and I still love Seattle. St. Ignatius Chapel, known as "The Gathering of Different Lights," is my favorite place, hands down. You really should look at the pictures here even if they don't do it justice.
I'm still thinking about a theme for this year for me & my family. What do you think it should be? I'm sincerely stuck. Maybe the year of no regrets? The year of new experiences? The year of kitties (that's my stepson's suggestion). I'll be even happier if we can figure this out.
About The Author
Jenn Whinnem has been more than a loyal member of this community, she has been a stalwart (is that a noun?). She is a communications guru, maven, and #RockHot mastermind (there, I used them all) at the Connecticut Health Foundation by day. In other moments, she's waxing jargon on Facebook and contributing to this blog while working behind the scenes to keep Jayme in top form. Connect with her on Twitter @TheJenn. Love this girl.
Related articles