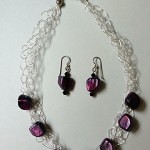 Who knew? A Bead & Button Show. And more surprising yet. I'm going to attend it!
Well, let's start at the beginning. But what is the beginning, really? Was it when I was a child whose crocheting prowess entailed all of making a chain of unending stitches that I would stretch through the house so as to chart my progress?
Was it the doilies I would later crochet because they were fun to make even though no one uses doilies anymore – updated funky colors notwithstanding?
Maybe it was the miniature granny squares that I turned into Christmas ornaments to friends' delight.
Steel Crochet Hook
Probably it was when my steel crochet hook connected with fine copper wire. At least that's when I'd found my muse. Wire + vintage and re-fashioned beads = endless creative possibilities for shiny, sometimes elegant, sometimes whimsical necklaces.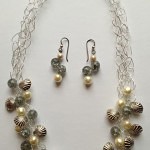 Why vintage and re-fashioned beads, you ask?
In short, because I was part of the first Earth Day (at a VERY young age), and environmental responsibility has remained at my core. By day, I run Terracom Public Relations, which since 1990 has helped innovative green organizations grow in size and impact. By night – or whenever I can – I am creating for my latest venture, zii designs.
Which brings me to the Bead & Button Show. I learned of it last year, shortly after I'd begun this jewelry-design adventure. This is no few-day gathering of beaders. Oh no. It fills out nearly two full weeks, drawing instructors from around the country: "The Biggest Consumer Bead Show in the World." And it's in Milwaukee, easily accessible from Chicago.
Well, life at Terracom prevented me from attending last year. But this year, I'll steel away for a class and a hunt for more vintage beads. I suspect there will be a whole culture at this Bead & Button Show that could make for its own sociological study. I'll be an interested observer.
And when I return, I'll set my sights on a few boutiques I've targeted as prospective places to carry zii creations. (I do love the entrepreneurial pursuit.) My hope is I'll be able to sell enough jewelry to sustain making more.
Because that's what it's all about. The joy of creating, of seeing how things come together. The breathless discovery of it all.
About The Author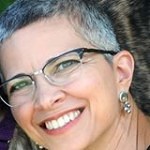 Christine Esposito is founder and chief connection officer of Terracom Public Relations, chief crochet officer of zii designs and an amused owner of a retired racing greyhound.
Related articles