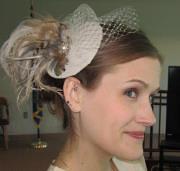 You meet the most remarkable and provocative people online. When you engage a tad deeper and peel back the layers, you see the seedling sprouting into the fruit of the earth. That's Jenn Whinnem.
When she wrote this Happy Friday Series, Glass Half Empty and Happy in February 2013, she knew it very well could be regarded as different with a bit of a twist.
Indeed.
Jenn Whinnem is the best writer I've seen around, and she's an amazingly good editor, too. She works at the Connecticut Health Foundation, and she's #RockHot, teaching peers and colleagues about social media and communications because she is totally an expert.
Jenn recently married, and she's step mom to a young boy. She is always around to listen to me rant about something on my mind, and she's always there to pitch in and pick up the ball to help. The load she manages every day puts her squarely in my stratosphere of respect every day, and she manages half empty quite well; better than most.
I want to say thanks to Jenn for being the consummate community manager, friend, peer, colleague, and avid listener. I also want to thank her for writing with her neck out to show a side of persona, perspective, and pizazz that is not mainstream at all. I like that, for she consistently makes me think a little harder and a bit differently.
Thank you, Ms. Whinnem for writing here and being you.
Related articles