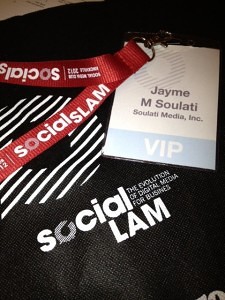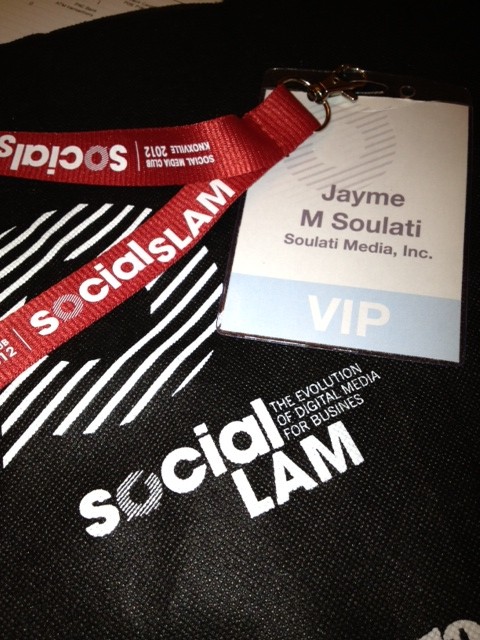 You missed the IRL event of the year in Knoxville last Friday. We got to see so many social media mavens and not so mavens, about 600, gathered in Knoxville for the second annual affair. Congratulations to the Knoxville Social Media Club and Mark W. Schaefer, founder of the event, for another amazing gig.
Thanks, too, for the swag bag although take a look in the photo above and see if you can spot the typo? How could that happen? LOL. Loved lunch, sponsored by Bush's Baked Beans and cashed in already for my two free cans of veggie baked beans. Awesome swag.
The most incredible thing for we who paid more to sit in front of the stanchion and call ourselves VIP to hob knob with the A-lister faculty, breath, was the opportunity to press the flesh of the names we've only seen on streams. And we were closer to Mitch Joel's cross-the-line innuendos prior to those in the back of the room.
I checked in on Facebook and tagged 25 others also present from my community alone! W00T!  After Stephanie Wonderlin presented for 10 minutes with 10 tips about video, I got the most awesome idea to use my iPhone 4S to do some spontaneous interviewing. And, thus, Soulati Media "On The Street" was born (although that branding is just announced and not yet on film!). I'll be sharing eight video snippets from the movers and shakers who contributed to Social Slam 2012 in upcoming blog posts. Curious ahead of time? Hit my YouTube channel (link right over there) and sneak peek!
Some Thoughts
These are my nuts and bolts about the day, and I hope you add a few I may have missed:
Data. Analytics. I'd like to write a #ThatIsAll here, but feel the need to explain a bit further. We heard a fabulous presentation by Tom Webster with Edison Research who writes over at Brand Savant. His skills as a presenter are honed with humor, extremely relevant content and information that makes you cringe because your campaigns are not created with his company's customized research to get the customized data and the customized analytics. Did I say customized?
I sat in a workshop about Social Search (I may be writing more on that soon as it's a topic that warrants more explanation) that did nothing but upset me. The expertise flowing from Sean McGinnis, Sam Fiorella and their colleague was fast, high-level, confusing, and lacked a roadmap for me to follow. That is why I walked away from there unhappy; there is so much to learn and understand about social data that people in the room needed those basics. When your presenters are so above board with their expertise (like an airplane to a car) and the audience is still trying to buy a car, there's a disconnect. Nothing against these gents who were wowsome; it's just me who isn't.
Integrated Campaigns. Gini Dietrich and Geoff Livingston wrote a book, Marketing In The Round, that just came out the day of  Social Slam. I was waiting for Gini to promote the book and let 600 people know how to buy it, but apparently, Social Slam planners allegedly didn't allow its promotion? (Check the link over there to buy it now.) Why? Terribly remiss. Gini is one of the A-listers (she'll deny it every time) in my circles; she is a leader in my community, and every person in the entire VIP section knows her. She was also the morning keynote presenter.  Buy her book; this is social media, people; let authors promote books with content social media professionals need to read.
Integrated marketing is still the answer. We can have data, we can have teams, but the silos need to come down and the campaigns need to be cohesive so we can share the success stories. Gini has something important to say; her content is relevant and required.
Presentation skills. You know how 3 p.m. is death time for any conference? I can vouch for that. There I was, absolutely doing the head bob, and I was saved and became a true believer — thank you Marcus Sheridan! This lion that roared rocked the house; he put the energy into the room that was so low people were sleeping. He walked the room, he boomed his voice, he threw the mic at people, "Love it, embrace it…what's your name?" And he engaged IRL, in people's faces with names on the spot and ad libs the likes of any LaLaLand actor. What Marcus said, for the life of me, I can't remember; just speaking the truth; but, what I'll remember was the most amazing presentation skills of anyone at the entire event. Way to go, Marcus! High marks.
Content Marketing. And, then came Mark W. Schaefer who was doomed after Marcus, but really not. Mark wrote his second book, Return On Influence, which he gave away to the conference — is this a pattern, Mark?  Mark's presentation style was engaging and his content was loaded with storytelling about others and proof points about why he thinks brands need to pay closer attention to social influencers and how to find and use them.
Conclusion
I traveled with Deb Dobson of Vorys, a Columbus law firm. It was our first meeting, and turns out we trek the same circles on the Interwebz, thus our plan to drive 11 hours round trip. This gave us a lot of time to converse about so much; she's a talker, you know…I'm sure I didn't get a word in edgewise…! Heh, hi, Deb!
Deb, in her infinite wisdom as a business development, social marketing, IT and analytics geek, encapsulated the entire day for me as I was lamenting my lack of knowledge in a few areas of social. See if you feel better, too.
There are three types of social marketing experts:
1. The Data Driver — the numbers nerd who lives and breathes this stuff (guys like Tom and Sean and Sam and Deb, as above) and looks at blog traffic as boring as hell because there are so many more ways to skin the cat.
2. The Apps Man — the first leader, the early adopter and the one who jumps from new app to new app to be the first to test, like/hate and write about it. Can you say Mashable?
3. Content Marketer — here's where I fall, and I'm so glad Deb helped me find my way home as I had gone astray after Social Slam. We in this category have an expertise that is so critical to the other two. Without messaging and creative content that brings number 1 and number 2 to life, there would be NO social anything. I execute content marketing strategy.
What were your takeaways from Social Slam 2012 or anything else I just tossed at you on a bright Monday?  Good to be home.