When I first saw the demo by American Lawyer Media (ALM) for Virtual Legal Tech , the free-to-anyone-attend-from-your-desk tradeshow, I was duly impressed.
Two exhibit halls staffed with live people in actual booths today, May 20, 2010 (the second live day this year), a networking lounge, resource center, and auditorium complete with live Webcasts and CLE credit await conference goers for a sum of $0.00 to attend. Be sure and listen to the 2 p.m. ET Webcast by Darryl Cross of LexisNexis and Kris Satkunas of Redwood Think Tank about Nurturing Clients (you can log in free by registering for the event today).
Marketers can lead gen galore with a list of those who downloaded articles, case studies, brochures, scheduled demos, and vied for prizes. Some 10,000 people are registered to attend today's live show. The age of virtual is truly upon us. And, when you visit both auditoriums, the company of companies is impressive – LexisNexis, Los Angeles County Bar Association, IBM, Integreon, and many more.
This event is social networking at its finest. Staffers of booths can conduct a live meeting with video, email visitors to the booth using the technology's email system, speak on a group chat, send a V-card to attendees along with an attachment for their virtual briefcase, and eve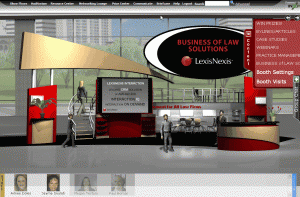 n interact in the networking room.
Was told "security" is tight; if booth stalkers decide not to leave or are downloading all the goods like a spy, then all an exhibitor has to do is phone or email for help. The offender will be promptly banned electronically from the shindig.
Why am I so enamored of this affair today? I spent about 20 hours making one of these booths come alive. What tripped me up were the flash files required to launch the final step of the way. Everything else was done by yours truly. (Hey, whose mug is that over there?)
I'll be inside the booth today, welcoming folks to partake and get acquainted with the portfolio of products by LexisNexis Business of Law Software Solutions – InterAction, Redwood Analytics, atVantage, Juris, Time Matters, and PCLaw.
If you promise not to stalk me, I'll promise not to stalk you! Stop by and say hello. This is a perfect example of the blurring of public relations and the blending of marketing, public relations and social media, don't you think?