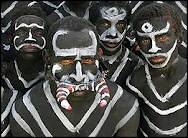 We're in the post social media adoption phase. Guess what? We're also in the post Triberr adoption phase, too. If you're a blogger and you're not engaged on Triberr, well, you kinda missed the train; it left. (Kidding, there's still time to jump on!)
Influence is a hot button. Many of us on the 'sphere who have been blogging for more than two years were around with the launch of Triberr, and, boy, did the sparks fly with anti-sentiment. Perhaps DannyBrown will come back and join the tribes again? He was one who withdrew. Erica Allison said, no, then she said yes; hmm, I think that's a flip-flop, right John Kerry?
Seriously, though, the inspiration for this post came directly from the horse himself. I spoke awhile with Triberr founder Dino Dogan yesterday. Dino and Dan Cristo and the gang are hosting TribeUp NYC in September, and the passion for that project is us. Yes, we bloggers who belong to tribes on Triberr. While I don't know  Triberr's mission statement, it's pretty simple to say it's all about being a resource for bloggers globally; to deliver tools and resources to take blogging to new heights and bring those of us who toil daily to keep our blogs alive along for the ride.
How To Get on The Influence Radar
In that highly strategic chat yesterday, I got to brainstorming with Dino (Adam Toporek has been a victim of my free think when he was renaming his new blog, Customers That Stick) about what I needed as a blogger after 2.5 years of making this space sing and building community.
Joining a tribe is no longer enough.
I need to see who's going to be in that tribe.
I need to see who's influential and how big their community is and whether they might nurture my blog posts with a re-tweet on a weekly basis.
I want to re-tweet posts that are dynamic and not amplifying the echo chamber with bloggers who have clout, not Klout per se.
When I'm invited to a tribe, I need to also know that the tribemaker is being strategic about its creation and has thought about aligning topical influence, Twitter communities that #RockHot, bloggers with comment sections that are exciting and fulfilling, topics I can mull over and consider as topics of my own, and inspiration that makes me want to visit and comment.
All of these things are the stuff of spur of the moment conversation; I hadn't been thinking like that nor would I have if Dino hadn't reached out to engage.
What's that say?
No one is picking up the phone any more! Look what happened in a 20-minute conversation…I filled Dino's ear with a lot of food for thought, and I earned myself a decent topic for a blog post that is sure to launch some healthy conversation; I guarantee.
So, Triberrs, what do you think? If you're not getting enough out of your Tribe, buy some bones and create one of your own; it will only help with your influence.
Save
Save