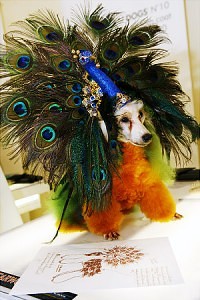 I have a confession. I love "America's Next Top Model," I subscribe to In Style and Vogue, and I relish the models' make up, style, poses, photography, and settings – forget the clothes.  When I saw in the Wall Street Journal this story, "Fashion Week Tips Hat to Blog Site," I eagerly scanned.
This week is New York Fashion Week, and guess who's getting a seat to the party? Tumblr! Tumblr is a blogging platform, much like Blogger and WordPress. How it differentiates from the two latter is with its 13.4 million blogs, about 20 percent related to fashion. There are 24 Tumblr fashion bloggers (independent writers) attending Fashion Week because of their influence (there's that subjective word again).
When you take a lens to more data, Tumblr is on to something. Tumblr had 1.6 billion U.S. page views in December 2010 only; whereas, Blogger had 697 million and WordPress had 141 million, according to comScore.
You can read the business story associated with Tumblr; what I'd like to offer up is the uncanny similarity with Tumblr's public relations and the familiarization (fam) tours of yore in travel and tourism PR. I used to arrange these fam trips for travel media back in the day when I worked in Chicago's agencies. These all-expense paid media getaways lavished everything imaginable on reporters in exchange for a story; you can imagine how popular these were, until the FCC swooped in and changed the gifting rules across industries.
So, here's Tumblr, the publisher, if you will, inviting Joe and Jane "fashion" blogger (some with no experience at all) to attend Fashion Week with free hotel, tickets to events, and a rooftop party (will it be inside?).
You can bet the blog posts will flow freely, among other things.
(photo credit: NYDailyNews)