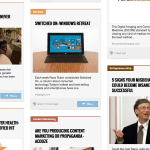 Via a LinkedIn group, a pitch came from someone I didn't know asking for a review of EverPost.co. I let it sit and slide to the bottom of the priority list until a better time to find time.
To my utter delight, EverPost is the simplest tool I've come across for content shares of others' material.
You register free with Twitter or Facebook.
Choose which channels you want to share on — either LinkedIn, Facebook or Twitter.
Select five categories of topics you'd like to follow.
Voila! A board appears with content from a variety of sites in the categories of topics you want to peruse.
Click share or auto-schedule, and your share is on its way to the channels you selected.
It's so simple, and there's a plethora of content at your fingertips to push out to the Interwebz.
Why I Love EverPost
Did I say it's simple?
There is zero learning curve; sign up and go.
I do want to share good content without strings attached; this enables that.
I get to share a wide range of topics from one dashboard. If I get tired of posting content in one category, then I go back to the drop-down menu and select another after deleting one of my chosen five.
There are no comments from the dashboard; however, you can go to the blog and read the entire post before sharing (ahem, as you're supposed to).
The tweets show up with the author's Twitter ID; they can see that a new person is sharing their material.
Klout Is About Influence
Triberr, my fave blogger sharing platform (please ask to join my tribe!), is getting into the influence game. That means influence scoring is going to be more about the Klout number, too.
If you're at all concerned about lots of shares to keep the Klout score high, then you need to use EverPost.
In about 10 minutes, you can share 20 blog posts. Yes, you can scan the post and vet it prior to sending, too.
I find it always a challenge to concern myself with keeping my Klout score high. I don't have the ability to sit around on the Interwebz and share content all day. Were I to be able to, my influence score would be higher than it is now.
Perhaps I'm going to use EverPost every day this week to see if I can sustain a higher Klout score just so those numbers prove I'm really an influencer. LOL.
Related articles