I had the privilege of meeting Stacey Hood IRL at Social Slam 2012; in fact, we found ourselves traversing the same circles for much of the conference. And when I chastised him for not blogging more with a perusal of his house, I saw he owned Guitar.com, and I immediately went into drool mode. Wow! He agreed to be interviewed via the Q&A below, and I'm oh-so-impressed that I know someone famous in the domain-ownership world. What excitement, what pressure, what opportunity!
Here's what Stacey had to say to my questions…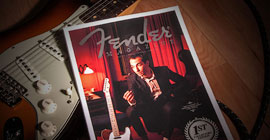 How on Earth did you manage to buy Guitar.com?
Short story, an offer was made to the D'Addario String Corporation. My partner, John, has a site called Vanderbilly.com, which is a guitar instruction site. D'Addario wanted his site. They came to him and made an offer. He called me about it and we talked about it for several weeks. He called me one day and said he was going to make an offer for their site and see if they bite. Jim D'Addario appreciated the passion that was there and accepted the offer.
How long have you had it?
The deal was finalized in Dec. 2011. We went out to the NAMM show in January that is in Anaheim and talked to publishers about the tablature issues (publishing rights, etc.) and a bunch of vendors and attended a few private events to talk to people and introduce ourselves. The site is stagnant right now due to site redesign and some other work we're doing in the backend of things. We're hoping to get it relaunched this summer, I'm thinking by July.
Do you own it yourself or is there a team of folks who manage it together?
No, I'm a partner with my long-time friend, John Cunningham. John was a pro guitar player & I was his tech. We've been friends for over 25 years now, we're practically brothers; we're so much alike. But I'm the calm to his OCD and he's the logic to my crazy ideas for business. We work really well together and have some really great things planned for this site.
We're looking to bring some other folks aboard eventually and those people will have to fit in with us. We can both be pretty demanding, but we also like to have fun. We're known for breaking out into a song acapella. We've always talked about things we could work on together, and this opportunity came up, so we jumped on it.
 What kind of traffic does it get (if that's proprietary, maybe a range?)?
 It holds steady at 40-60k visits a month.  Bear in mind that we haven't done anything to it yet.
 What have you tried that has worked for you on this site? Any tips or secrets?
 I'd have to refer you to the previous questions; we really haven't done anything on this site yet. It was a mess when we got it. It was built in an open source program and the developer just kinda did his own thing on it. So you had all of this custom code that was near impossible to decipher. We finally found a great developer that is working on it now to get it straightened out and redesigned.
 Right now, I've been concentrating on the social media side of it. Since I took over the Guitar Facebook page, we've grown something like 300%…I'm using what I know works in Social Media. We have a great audience in there and people respond and are involved. Once the site actually relaunches, I think it'll go even further.
Do you think this site is any different than any other?
There are some other great guitar sites out there and we've met with the people that own them. They're ready to see what we do. Is our site any different? Not right now, but it will be thanks to the things we have planned….that I can't discuss right now.
Knowing that you own such a domain, do you feel more accountable to consumers, musicians and the world to deliver great content?
I think anytime you have any sort of website regardless of domain, you should make it the absolutely best it can be. Once we get it relaunched, it'll look different, navigation will be different, it will be a place where anyone interested in guitars will want to come. We'll cover all sorts of playing; classical, rock, blues, country, jazz, bluegrass…there are some great players in all genres of music, the guys that are shredders always seem to be at the forefront for some reason.  We're not ignoring or bashing those guys, but go and listen to Stevie Ray Vaughn.  He wasn't a shredder, yet he's considered one of the top guitar players ever. We also want to explore female players. There are lots of talented female guitar players. Bonnie Raitt, Nancy Wilson, etc. laid the groundwork for the new talent that's out there.
 We're also fully aware that we're in an age where the younger players are familiar with domains, so they know if they get a guitar for Christmas or a birthday, they can type in Guitar.com and find something.  Our plan is to build a community for the industry. Want to find out about the latest effect pedal? Come to the site. Want to know which bands are playing in your area? Come to the site. Want to read about the newest Les Paul that Gibson has produced? Come to the site…and so on.
How much extra time do you spend developing great content for this great domain?
Right now, I've been focusing on the social media side and then just making introductions for the interviews, gear reviews, etc. I'm trying to keep the Facebook page active by posting everything from songs to gear reviews I find online that I feel are "neutral", meaning not from a direct competitor to interacting with the members. Recently, the discussions were about Black Sabbath and Guns-n-Roses. Any chance I see that I can interact with someone on the page I believe makes that person move from a fan to a WOM supporter. That's the strongest marketing that we can get.
What tips can you offer other domain owners of a mass consumer site of this nature?
I've started several sites; WorldSoccerShop.com, Soccer365.com and some others. I've always involved myself in sectors that I'm interested in.
The best tip I can offer is to believe in what you do. Live it. Don't just seek out a niche and then try to make a quick buck; those days are over. Thanks to social media and transparency, you have to do it right, if not, people will call you out on it. There is no such thing as an ignorant consumer anymore and you should keep that In mind. Finally, you have to be excited to get online every morning to work on your site, after all, it is YOUR business.