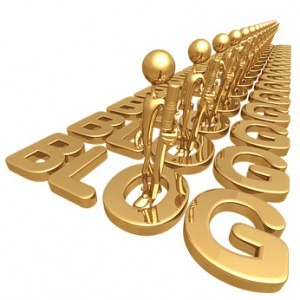 Last week, Jenn Whinnem graciously offered a guest post and asked whether your blog writing may be offending readers. She got a litany of comments, and each of them had poignancy.  Yet, the answer was mostly skirted, so I need to address this in a different way while respecting all the comments people left who knew or were pondering the answer to that question.
Jack Steiner writes Random Thoughts, and he's been at it for seven years as a blogger. This is miraculous; in fact, I don't know anyone else who's been blogging longer. And, his style is very much his own — he writes for himself about family, experience, personal thoughts, and some business, too. He doesn't care to niche himself into one tier of audience because he clearly states he writes for himself. So, his audience is he.
Laura Click of Blue Kite Marketing said she is writing for small businesses about social media tips; yet, those who comment are her peers, and they may already know what she's writing about. So, is her blog effective? Is it meeting her goals?
Leon Noone, that curmudgeon Aussie who recently guest posted on Spin Sucks, shares with Jenn that you need only have one audience. He states this based on his lifetime of direct marketing expertise. (By the by, you need to keep abreast of Leon — you can learn much.)
Adam Toporek shared that he's blogging with SEO in mind so some of his topics are intended to push his Intense Fence business. He's only been at it a little while, so he's still trying new things.
Shakirah Dawud took Jenn's comments to heart and suggested she needed a swift something or other to try and write for a larger audience. She claims she had been writing for her peer copywriter buds, but found that niche too narrow. She's now considering casting a wider net.
Other bloggers have determined that personal introspection, therapeutic, and coaching content work well for them, and thus their audience is people who seek a community for support and a spiritual nature.
And, what about me, you ask? During that first year, I had no idea; my goal was to become a thought leader and I never asked anyone to hire me, buy from me, or other monetary gain. Knowing I wanted my clients to look at my blog and see something actively energetic, I had to write about what I knew — public relations.
But, writing about public relations begets other practitioners. So, eventually/fast forward to now, my blog has become a place for peers with a community built around social media, marketing and PR. Is that what I had intended? Nope. Didn't want to be caught in the niche; but…I like it, it feels like home, and because I'm seasoned after 27 years in this field — well, I should not ignore that.
If your goal is to write for small businesses, writers, PR peeps, friends and family, or customers — keep in mind that there are those popping in to see what's new who NEVER comment. (That's why a "like" button is helpful; gives people a way to show they're there without speaking up; ahem, @thesaleslion!).
So, clarify your blogging goals; defining your audience is exactly part of this process. Remember that goals can be adjusted as you grow:
Are you blogging to brand yourself?
Do you want to expand your service offering?
Do you need clients to see you in action?
Or, are you needing to grow as an individual and earn confidence while writing a ton and earn support from the sphere at the same time?
When you can definitively answer these questions,  you will know for whom you're writing. And, maybe you already do.