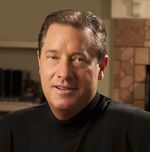 David Meerman Scott is someone you should follow on Twitter. He's author of one of my favorite books,  The New Rules of Marketing and PR (and, I can't find my dog-eared copy, darn it), and he blogs over at Web Ink Now.
As I was trolling through Google Reader for some blog fodder, I came across his post today, The Secret to Getting 50,000 Followers on Twitter (and, if you read the blog, there is no secret). David says it takes blood, sweat and The Grateful Dead to hit 50K (well, not really).
(Just to share, I like having handsome men imaged on my blog; David's mug came directly from his blog, link above).
Since 2008, here's what David Meerman Scott has done to reach Twitter nirvana — 50,000 followers (extracted exactly from his blog):
Now, I'll share my thoughts about why you should never wish to reach 50,000 followers on Twitter:
1. You'll never make a connection with anyone because the stream will be flying at warp speed.
2. You'll be considered a jerk because anyone who mentions you or asks you a question will need to get in line for your response.
3. You'll never be able to discern a legitimate direct message from junk mail.
4. You cannot strike up a one-off convo about music  with just anyone because tweeps will get jealous you're not paying attention to them, too.
5. Your in box will be loaded with tweets, and your smartphone will show more Twitter activity than emails.
6. There will not be enough columns on TweetDeck or HootSuite to deliver the numerous hashtag chats you'll want to engage in. In fact, you'll need quadruple monitors to manage Twitter apps.
7. Twitter will become a one-way, outbound channel for you to promote your blogs, books and banter; no two-way communication.
8. You'll stop following anyone else because that means you'd need to spend a day returning the follow-me-I'll-follow-you favor.
9.You'll just start RT'ing tweets without any screening so you can stay on followers' good sides.
10. And, in reference to the list above…uhm, is that humanly possible, David? You're not jivin' us, are you?