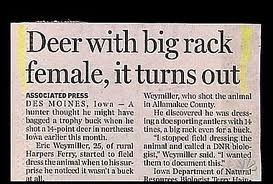 Power tribes are all the rage on Triberr. This blogger is in three, and the jury is still out whether that will be the norm in a few weeks or not.
What's happened as a result, however, are the headline and first two sentences (like the lead of a news story) become the most critical aspect of a blog post.
When your headline sucks, and I don't know you or your writing ability, then your blog is bypassed, deleted, muted, or blacklisted. Your headline needs to be a summary of what you write about inside. It has to provide a creative depiction and enticement for me, the reader, to click, read, share, and comment.
Here's what I'm seeing that isn't good in headline writing:
One-word headlines that mean nothing and say nothing.
Headlines chock full of @ signs and hashtags (I believe that's because people are writing headlines for Twitter?)
A series of peoples' names that take away from the content
Use of first-person pronouns, kinda like, "What I Ate For Lunch"
Headlines that go on and on like a paragraph
No imagery, innovation or creativity to conjure a visual
Get my drift?
Because I'm in the public relations profession with a media relations expertise, I learned to write a headline that summarized and introduced the entire news release. In fact, I always spend the most time on the headline and then the lead (first paragraph). Now that I'm in these power tribes, I've changed up my first paragraph to be less about my thoughts and more about the content in the post.
Two headlines I've written (one just this week) prompted more comments and traffic:
Does  Your Blog Have Spinach In Its Teeth?
Should Video Be Like a Nude Beach?
You can see why these are successful; each creates a great visual, and the image you select helps further pull the reader. The first headline  came from a comment I wrote on Clarity For The Boss; I actually was speaking with Sharon Gilmour about vulnerability and asked her whether she'd tell me if I had spinach in my teeth, and lo, there was the idea for the blog post.
Tips For Better Blog Headlines 
(I could've used this as the post headline, but, don't you think the one I selected instead is more enticing?)
Here are my tips for writing better blog headlines so yours don't suck.
1. Go to the list of observations and don'ts and reverse them, of course.
2. Review your content and select some catchy words that serve to describe what you're writing about; use those words.
3. Sex sells. Ask TheJackB how many times he's used some sexual connotation as headline bait…works, doesn't it, JackB?
4. Use tips — 10 Tips — is always a great puller; people love those lists.
5. How can you make me visualize a picture enough that I want to read the post? Be creative.
6. Never use one-word headlines; please, I beg you.
7. Why waste valuable real estate with peoples' names in a header? Is that supposed to impress me and make me want to read because three people I don't know are in the headline?
8. Key words? OK, if you have to, and guess what? Key words work for search marketing and they also work for readers. If I am seeking content on social media (which is often what I look for), then use that in the headline.
I'm always impressed by Mark Babbit's headlines; without ever reading his content, I know he writes for interns, job seekers and about resumes. He always puts these key words in his headlines, and I applaud that.
Want to try some?
Old: My Boat That Sunk Yesterday
Suggestion: How To Repair Holes in Wooden Boats
Old: Special Halloween Family Dinners
Suggestion: Four Healthy, 15-Minute Kids Dinners Before Trick-or-Treat
Old: Why My Business Failed
Suggestion: Rescuing A Failing Business With A Lifestyle Coach
If anyone wants a bit of headline help, let me know. I'm happy to offer some tips or whip up a new thought for you to consider that is enticing, creative, and exemplifies your content.