Wh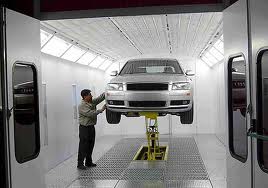 en there was hail damage to my beloved orange Mini Cooper convertible, I was devastated, yet counted our lucky stars kidlet and I survived driving in the tornado. The experience following to get my vehicle repaired was eye-opening and resulted in my blog post and Facebook posting on the "offender's" fan page.
This is a piece about vehicle collision repair shops or auto body shops or whatever you'd like to call them. The teams in these businesses, often mom-and-pop establishments or franchises or dealerships, have to work daily with customers who have angst, stress, injury, insurance issues, and are expecting to spend dollars to repair their vehicles.
I've spoken with many experts of late about the situation that exists in body shops — they are behind the times in how they service customers, how they engage with customers, and how they perfect their own customer service to ensure a new customer returns for future work.
Here's what I recommend right now for any body shop, collision repair facility, or dealership:
>> Bring in a public relations/marketing practitioner with expertise in social media to meet with your team, observe and analyze how services are rendered.
>> Allow that expert (Hi?!) to conduct a social media analysis to determine your collision repair facility's brand and influence on social channels. That includes Facebook, Yelp, Twitter, Foursquare/Gowalla, daily deals/Groupon, and others.
>> Select one point of contact from the customer service team in the body shop to get trained in social media. That person can work with the public relations practitioner to learn why social media is critical, how to listen to customers, how to document what they say and follow-up, how to ask for a review on Yelp, and how to keep them coming back for more services (beyond auto body repair).
>> The contact internally becomes basically tied at the hip with the public relations consultant so that content can be delivered across channels within the regional boundaries of that business.
Social Media Campaign
The social media campaign could look like this:
>> Analyze the website and freshen it to be customer centric; write for the customer to entice and convince them that your brand, reputation and service are solid.
>> Establish a Facebook fan page and add the buttons to your facility's website.
>> Launch a profile on Yelp and ask for reviews from customers you know had a good experience. Put up a coupon on Yelp good for an oil change and tire rotation.
>> Explore a daily deal with the area newspaper or buy a Groupon campaign to bring in new prospects. When they come in for the first time for services other than auto body repair, take them on a tour of your facility and show them the capability you have for detailing and collision repair. (The most fascinating thing about collision repair services or a personal injury law firm, for example, is that you don't know where your next customer is coming from until there is an accident.)
>>Record the name and email of the prospect in a database you launch and add this to Constant Contact. You'll launch a newsletter perhaps four to five times annually about collision repair, auto health checklist, and more.
>>On the business website (which should be updated), add a form that says "Register for our Newsletter here." When you capture names, they get added to the database and they get the email newsletter.
Conclusions
The point I'm making is this:
Customer service begins on the frontlines, but it doesn't end there.
>>Customer service begins prior to that person ever entering your business.
>>Customer service has to happen during the entire face-to-face experience.
>>Customer service requires "the ask" to invite a post-visit review (either a Yelp rating, or Facebook posting, or register for our newsletter).
>>Customer service is a follow-up phone call or survey to ensure satisfaction, and it is also a real and genuine person concerned that a customer had a good experience while in a place of business.
For years, we've all said, "customer service is dead." Isn't it high time those charged with customer service in small businesses get a little more creative to earn and keep a customer?