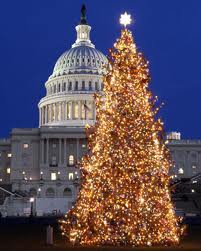 No matter if you celebrate Christian holidays and New Year's or not, December brings with it high-level stress to finish year-end tasks, send the books to the CPA for interim numbers, close the business on a high note, take left-over PTO days,  conduct a few business trips, and also spend time with family because schools are closed.
For we who do celebrate Christmas with Santa Claus, decorating of the home, card sending, baking, and throwing or attending a party or two, that's another level of commitment that sends me into a tizzie.
Add the fact that I'm now at the gym nearly four times weekly directly during blog-writing time, and what part of that doesn't wreak havoc on the blogging schedule?
This post is for me, and I hope you're gonna nod  your head in time to mine and agree; take some 'raderie from this community who all know how much life happens (and it's OK).
If I go off the grid for two weeks in December, here's what's NOT going to happen:
>>My readers will understand for all the reasons above, and they will slowly come back when content (and me) are fresh in January.
>>My blog will lie dormant for a bit, or I'll capture some fave old posts for newcomers here and arm the queue with oldies but goodies.
>>There's no impact to my billable time if I don't blog every day…blogging is an extra bonus, and added feature to my services (uhmm, for my own brand and not my clients').
>>My SEO (ahem, for anyone who knows me, they also know how much I disregard that word) won't suffer (really?) because if you don't know what it is in the first place, then you have no idea if it's going to suffer!
>>There won't be any guest posters because a) I haven't asked and b) everyone else is in the same boat.
>>My guilt for not delivering on content three times weekly may not be overcome; however, when inspiration has fallen off the cliff because of all that aforementioned I shouldn't be blogging anyway, right?
Heh.
And, so, dear community, this is my December blogging dilemma and my lame ass blog post for this week. I was riding the comet from the success and 'raderie of Share Your Blog Here, but that's extinguished until I resurrect the comments into a fastidious post and literally share your blog again (which I plan to do, don't you worry).
Did anyone nod their head in syncopation?